Being a prize fighter is a painful profession.
For the GLORY "Last Man Standing" runner up, Joe Schilling, it's not just the mental anguish from losing that lingers this time around. Nor is it the usual bumps and bruises that accompany a full night of face-punching, gut-busting and leg-kicking competition.
Right now it's the heightened physical pain -- repercussions from making it to the final round of an eight-man tournament and abusing his body to the point of exhaustion -- that consumes "Stitch 'em Up." Fighting just once in a single night is a gargantuan task, let alone three times, considering the physical, emotional and spiritual tolls that must be paid with each new challenge.
But, on Sat., June 21, 2014, that's what the California-based kickboxer did (or more like dragged and begged his body to do) against Simon Marcus, Wayne Barrett and Artem Levin. He would prevail against the first two (Marcus and Barrett), but fall in the final tournament match to the latter (Levin). Schilling walked away without a title, but the scars and injuries that he acquired -- and the sheer exhaustion his body endured -- have him wearing his pride like a champion's belt.
"If I lay down I have to have somebody help me get up because it hurts so bad. I've been sleeping in a chair."
"It was a great night," Schilling said. "I'm still disappointed that I didn't win the final. I'm just not a good loser, but I am really proud of my performance and the heart and the class that I showed. I feel really good about it."
"Stitch 'em up," a nickname he earned after his skin-splitting elbows forced an opponent to get more than 30 stitches after their fight, competed 10 rounds that night -- more than any fighter in the tournament. And he was knocked down only twice. Indeed, his body complied with his every demand for the duration of "Last Man Standing;" however, now that the dust has settled and the adrenaline a distant memory, it has begun to fail him.
His ailments today appear as though he fell off of a motorcycle on the highway ... or maybe tumbled out of a three-story building. Schilling candidly describes how he recently woke up, shaking with a 102-degree fever because the medicine had wore off and his body, "wasn't digging the pain." He was unable to lay down. Got stuck in chairs. And couldn't rest his forearms on the table to eat a simple meal.
"Well, I've had about 90 fights total in my life and I'm pretty good at recognizing what is a real injury and what's just swelling and bruising and what's going to go away," Schilling says rather matter of fact. "My left shin has a grapefruit on it and there is fluid from my knee down to my foot," laments Schilling, who had his first tournament taste of as a teenager in "Tough Man" contests in Dayton, Ohio. "I can push with my finger and leave divots all the way down my leg ... both legs. That's mostly just bruising and it will go away in a few days. My forearms are extremely sore from Simon's left body kick. I kept taking on the arms and trying to counter back. They definitely did damage. I keep finding myself -- when I sit at the table and go to eat, when I sit my forearms down -- I immediately jump back up.
"I went to the hospital days after because I thought my sternum was fractured -- it just feels compressed. And if I try to sit up, if I try to sit down ... I can't lay down," he continues with his laundry list of post-fight detriments. "If I lay down I have to have somebody help me get up because it hurts so bad. I've been sleeping in a chair. I get stuck in chairs a lot. We went and got the x-ray and they said it wasn't fractured, just a really bad bone bruise. It's probably like any other rib injury -- it just hurts for a really long time. It didn't feel that bad that night, but it feels like every day it gets worse."
*****
Good North American kickboxers are somewhat of an endangered species. Schilling, though, is widely considered one of the nation's best talents. As the GLORY promotion attempts to be a combat sports beacon for kickboxing, Schilling has showcased his immense skills, flying the flag adorned with stars and stripes proudly in a sport that has long been dominated by European talent.
"A lot of us take it very seriously to represent the United States. We are all very patriotic. I think that we have done that," Schilling says with pride. "Last year we showed that there are top-level Americans. We are definitely a force to be reckoned with."
"Last year we showed that there are top-level Americans. We are definitely a force to be reckoned with."
Schilling is part of the "Can't Stop Crazy" team, which also includes Lion Fight Super Lightweight Kevin Ross, GLORY Lightweight Ky Hollenbeck and Lion Fight Bantamweight Tiffany Van Soest, among others. He can always be seen wearing a hat with that logo for his walkout at each of his fights. In fact, after two years, "Can't Stop Crazy" has become a "movement and lifestyle," he says.
"It started out as a group of the best kickboxers in America," says Schilling, explaining the origins of "Can't Stop Crazy." We decided that we were going to take full responsibility to promote ourselves, our fights and our sport."
It wasn't too long ago that Schilling struggled to find fights because of the scarcity of kickboxing or Muay Thai competition in the United States. The seven-year veteran even tried his hand at mixed martial arts (MMA), faring poorly (1-3), just to keep active. He remains in that circle as an occasional training partner of his close friend, UFC superstar Nick Diaz, as well as working with former UFC Light Heavyweight champion, Lyoto Machida, among others.
Much has changed within the last two years due in part to GLORY becoming the global leader of kickboxing and striving to develop -- and push -- north American talent on Spike TV. The days of worrying about getting fights are now far behind him. "For the fighters who have fought for GLORY now and the people who will fight for them in the future, we all have a great deal of gratitude for them bringing the sport back," he affirms.
At "Last Man Standing," Schilling ended up fighting three times -- a number he sometimes struggled to reach inside one full year -- and Marcus was his first adversary of the evening. The Canadian entered the tournament undefeated (39-0), which Schilling considered equivalent to "Floyd Mayweather" status.
*****
The crowd at historic The Forum in Inglewood, Calif., was ravenous for its hometown fighter, from the introduction of his "Can't Stop Crazy" theme song all the way through to the fights dramatic conclusion.
There is a storied history between the two fighters with Marcus handing Schilling two losses under the Lion Fight Muay Thai banner.
His oldest son, Joe, was there in the front row to witness his defeat at Lion Fight 5, where he got viciously knocked out. After he and Marcus went to the ground from the clinch, his head slammed into the canvas with the weight of Marcus on top of him. He got up, clearly wobbled from the fall, and was knocked down with a big left hand. When he got up again, he was knocked out with a high kick.
Schilling said it was "really hard" for his son to witness. And it's the reason he has been scared to watch his father fight ever since. Naturally, Little Joe was extremely nervous to see his dad fight Marcus again at "Last Man Standing."
"My son Joe is eight and he was really having a heart attack," Schilling explains. "Days before the fight he was just really scared and sad. It was pretty awesome actually. I told him ... I was saying goodbye to everybody before I went to the venue that night. I went to give him a hug and he just looked really scared. I said, 'What's wrong? You can tell me. Are you scared?' He said, 'Yeah.' I said, 'Daddy is going to be okay. Don't worry I will be fine no matter what happens.' He says, 'okay' and then gives me a hug and starts to walk away and then comes back and says, 'Hey dad, you know you can never let me down right?' It was just amazing. It was the best feeling in the world. He had his hands over his eyes the whole fight. He was very scared."
"I was moved a little bit, so I had to wave to the crowd and acknowledge them because it was really an amazing feeling."
Meanwhile, his youngest, Jax, is "all about fighting," reveals Schilling, who tags pictures of his two sons on Instagram as "Thing #1" and "Thing #2" in reference to their favorite Dr. Seuss story, "The Cat in The Hat." "He loved it," Schilling explains. "He was standing on the chair screaming the whole time. My family was really supportive and they are really proud of me now."
So, too, was the local crowd. In fact, saying they were behind him would be a drastic understatement -- Schilling was treated to the loudest cheers of the evening each time out, forcing him to break away from the norm and address his supporters.
"I usually don't blow kisses to the crowd and acknowledge the crowd," admits Schilling, who wears an orange prison suit to the ring to represent his gym "The Yard." The name spawned from having once trained with head coach/co-owner Mark Komuro in an old abandoned Los Angeles, Calif., prison. "I'm usually pretty tunnel vision and focused when I fight. When I walked out to that crowd at The Forum, all of L.A. was cheering for me. It was pretty powerful. I was moved a little bit, so I had to wave to the crowd and acknowledge them because it was really an amazing feeling. No fighter could ask for anything better."
Schilling was undoubtedly fueled by that energy and looked great early against Marcus, finding his rhythm, range and winning the battle in the clinch -- something he failed to do in past encounters with his rival. He was also fighting like there was no tomorrow, coming on fast and furious with big punches and jumping knees. It was an exciting approach, except for the fact that, if he won, he would have another fight in front of him.
In other words, he wasn't exactly pacing himself.
"Really that's the way you have to fight against Simon because he is going to press forward the whole time," explains Schilling on his game plan. "And when you think he is going to grab you, he's going to punch you. And when you think he is going to punch you, he's going to grab you. It's constant pressure from him the whole time. I just fought him at his game."
Schilling looked to have had the edge after the first round, but after getting floored in the second stanza thanks to a straight right hand in the corner, he would have to win the third frame to force an extra round. And that is exactly what he did, much to the delight of the screaming crowd at The Forum.
"When he dropped me in the second round I was really impressed," Schilling admits. "I had been working on my head movement a lot and I had gotten away with some pretty nice slips about five seconds earlier. Yeah, he caught me in the corner with a solid right hand right on the chin and I had to pick it up from there. I really felt like I was winning every round. Even the round that I got dropped, I felt like I was on my way to winning that round."
Schilling poured it on in the "sudden victory" round. When he had Marcus in trouble, the Canadian spit out his mouth piece to buy himself some time and avoid getting knocked down. Referee Big John McCarthy gave Marcus a stern warning, but after Schilling rocked him with punches for a second time, his long-time rival once again spit out his mouthpiece. This time, McCarthy immediately halted the bout to deduct a point. From that moment on, all Schilling had to do was avoid dangerous exchanges and circle until the last seconds wound down to win the bout.
"So at that point I'm looking at my corner and they're saying, 'Dance, circle -- you don't have to fight anymore because it's a tournament,'" he recalls. "I was really trying to be as smart as I could possibly be for this tournament and really focused on winning the whole thing. So I got on my bike and started circling."
But, the sequence that followed was one of the most theatrical in GLORY's history: Marcus' mouthpiece would come out again, but this time it was a Schilling right hook that would knock it out, sending the Canadian to the canvas for a crazy knockout that made The Forum crowd go berserk.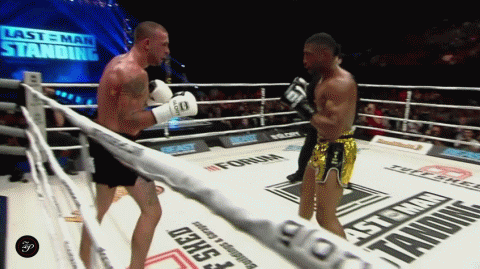 "It was definitely a highlight for my career," said Schilling about the finish. "The knockout was just an amazing feeling."
"Simon did what a seasoned fighter is supposed to -- he cut off the ring and he had to push the fight, there wasn't much time left in the fight and he went for the knockout and I caught him with the counter hook from southpaw," says Schilling. "He actually caught me with a straight right hand on me at the same time. I was actually wobbled. I'm not going to lie. He landed that shot solid. I kind of stumbled across the ring and looked over my shoulder and he was out. It was a pretty awesome feeling and then the crowd going insane was amazing."
As elated as he was about the win over Marcus and avenging the prior two losses, Schilling's main focus immediately shifted to the semifinal round of the tournament, a rematch versus Wayne Barrett.