For Ultimate Fighting Championship (UFC), 2013 was a period of transition.
From the migration of UFC programing to its new home on Fox Sports 1 (FS1), to the announcement of the company's new subscription-based online network, UFC Fight Pass, change was in the air for the world's leading mixed martial arts (MMA) promotion in the latter half of 2013.
With that change has come a series of growing pains. Other than a pair of notable exceptions, UFC ratings and pay-per-view (PPV) buy rates have been down across the board since the promotion's jump to FS1 in mid-August.
Although this can largely be attributed to the fledgling FS1 being a far weaker network than FX, it may be there are other causes here at work, too. After all, UFC's debut on FS1 -- a stacked UFC Fight Night 26 card that featured a main event of Chael Sonnen vs. Mauricio "Shogun" Rua -- drew an average of 1.7 million viewers on Sat., Aug. 17, 2013.
While subsequent UFC Fight Night programs were never designed to do those kind of numbers -- given that many of them took place on weeknights and didn't feature a star the caliber of Sonnen on top of the card -- it's hard to believe UFC planned on giving away fights like Carlos Condit vs. Martin Kampmann and Glover Teixeira vs. Ryan Bader in front of respective audiences of just 824,000 and 539,000 viewers.
Furthermore, despite a pattern of low ratings after the move to FS1, UFC broke 1 million viewers on the network for the Finale of the otherwise low-rated The Ultimate Fighter (TUF) 18 and for the UFC 168 "Prelims," which did around 1.1 and 1.6 million viewers, respectively.
With these numbers in mind, it would appear UFC's audience is wiling to tune into FS1 en masse if the promotion gives them fights they are interested in.
Pioneering MMA journalist Dave Meltzer is fond of recounting a lesson he learned from Houston, Texas-based wrestling promoter Paul Boesch that is applicable here. Boesch's pro wrestling promotion had drawn a bad house and, in a phone conversation with Meltzer, he gave a laundry list of reasons it had failed to attract fans: Bad weather, competition from football, a popular television program airing a new episode and many more.
Then Boesch delivered the punchline, saying something to the effect of: "I just wanted you to hear all that because those are bullshit excuses you're always going to hear from promoters. The fact is, we didn't draw because we didn't put on a main event fans wanted to see."
It's a lesson UFC would be wise to keep in mind as it attempts to balance its commitments to FOX, delivering money match ups on PPV, expanding its presence in international markets and launching its Internet-only network.
The sky may be far from falling for UFC, but with both Georges St-Pierre and Anderson Silva possibly gone for good, the company needs to focus on building stars who can drive business in 2014 and beyond. UFC may be attempting to diversify its sources of income with Fight Pass -- which super-serves its niche hardcore audience, but won't appeal to the masses -- and running more international events, but fight promotion still remains a star-driven business at the end of the day.
And stars are a commodity UFC needs now more than ever.
Without further ado, let's take a closer look at UFC viewership patterns in 2013:
-----------------------------------------------------------------------------------------------------------------------------------------------------
UFC on FOX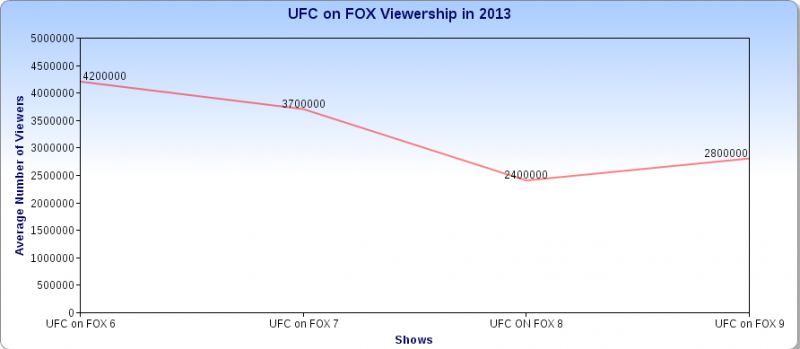 UFC on FOX ratings started of surprisingly strong for the Jan. 26 show headlined by flyweight champion Demetrious Johnson vs. John Dodson. At the time, it seemed as though the question as to whether champions who weigh less than 155-pounds could serve as effective draws in UFC was answered with a resounding, "Yes."
As was to be expected, viewership fell by nearly 12 percent for the April 20 card that featured then-Lightweight champion Ben Henderson vs. Gilbert Melendez in the main event. UFC on FOX viewership traditionally takes a tumble in the spring and summer, which shows the value of promoting UFC on NFL programing during football season.
Johnson again headlined the July 27 show, this time against little known challenger John Moraga. The combination of a weak main event and the show taking place in summer proved to be a bad recipe for ratings: UFC on FOX 8 ended up doing a measly 2.4 million viewers ... the lowest in series history.
What's more, although the ratings rebounded slightly for UFC on FOX 9 on Dec. 14, it underperformed badly for a show held during football season. In fact, if we exclude the aberration of the monster 5.7 million viewers who tuned in to see Junior dos Santos challenge Heavyweight champ Cain Velasquez on Nov. 12, 2011, the 2.8 million viewers netted by the Johnson vs. Joseph Benavidez-headlined card was down 36 percent from the football-season average of 4.4 million viewers.
This isn't good news for Johnson or the rest of the 125-pound division. In retrospect, it appears a Light Heavyweight co-main event between former champion Quinton "Rampage" Jackson and Glover Teixeira had more to do with the impressive rating for UFC on FOX 6 than the main event.
Although 4.2 million fans watched Johnson defeat Dodson in a "Fight of the Night"-winning performance at UFC on FOX 6, approximately 33 percent of them didn't like what they saw enough to come back for more the next time Johnson headlined on FOX during football season.
UFC knew it was in for seven years of juggling the demands of its PPV business with its commitment to provide FOX with four compelling big show main events a year, but it appears the company has yet to strike upon the right formula for most effectively serving both masters at once.
The above chart shows UFC on FOX viewership for 2012 and 2013. The thing that immediately stands out is the lack of the traditional football season boost for UFC on FOX 9 discussed above.
However, another noteworthy data point on this cart is the 3.7 million viewers netted by the Henderson vs. Melendez Lightweight title bout on UFC on FOX 7. That's 48 percent above the 2.5 million viewers Nate Diaz and Jim Miler drew in the main event of UFC on FOX 3 in spring 2012, and 32 percent above what 125-pound champ Johnson did this past December, leading some credence to the idea that Henderson was starting to get over with the public to a degree before losing his belt to Anthony Pettis at UFC 164 back in August.
Henderson is set to headline UFC on FOX 10 against Josh Thomson on Jan. 25, 2013. If that show -- featuring a non-title main event and a relatively weak card from a star power perspective -- does a better rating than UFC on FOX 9, it will be a stark indictment against the drawing power of Johnson as champion thus far.
PPV "Preilms" on FX and FS1
The obvious story pictured in the chart above, is the precipitous drop in viewership that accompanied UFC's migration from FX to Fox Sports 1 on August 17. Although this can be interpreted in many ways, one thing is clear: for whatever reason interest in UFC was down immediately following the jump to FS1.
UFC 164 "Prelims" being 18 percent down from UFC 163 may not seem like a drastic plunge. However, it's simply astounding viewership plummeted even further from there for the preliminary portion of cards headlined by Jon Jones at UFC 165 and Cain Velasquez at UFC 166.
Traditionally, interest in a PPV match correlates to viewership patterns for the free "Prelims" that precede it. However, the "Prelims" for one of the biggest bombs in modern UFC history -- Rashad Evans vs. Dan Henderson at UFC 161 -- outdrew the "Prelims" for the Velasquez vs. dos Santos-headlined UFC 166 by a staggering 54 percent.
Furthermore, while the 998,000 viewers who tuned into the "Prelims" portion of the Georges St-Pierre vs. Johny Hendricks-helmed UFC 167 were a marked improvement from what PPV "Prelims" had been drawing on FS1 until that point, the show was still down 37 percent from the 1,579,000 who tuned into the "Prelims" that aired before the St. Pierre vs. Nick Diaz fight at UFC 158.
However, not all of UFC's viewership woes in the later half of 2013 can be blamed on the move to FS1. UFC 168 "Prelims" netted the third highest viewership of the year for a PPV under card, putting the lie to the idea UFC can't draw on FS1 until the network becomes more established.
Estimated PPV buy rates also took a hit after the move to FS1, although the number for UFC 163 -- headlined by Jose Aldo vs. Chan Sung Jung -- was so low the drop-off doesn't stand out very starkly at first.
However, when one considers that names like Jon Jones, Cain Velasquez and Junior dos Santos drew somewhere in the ball park of 310,000 to 330,000 buys apiece for UFC 165 and UFC 166 -- and that St-Pierre did his lowest buy rate in years for UFC 167 -- it becomes very clear that, for whatever reason, UFC wasn't firing on all cylinders in late 2013 from a promotional standpoint (with the irony being that Sept. to Dec. of this past year may very well have been the best run of in cage action in the promotion's history).
As you can see by the above graph, other than the aberration of UFC 156, there is usually a correlation between interest in a PPV and "Prelims" viewership.
Also, it is important to note that since the estimated buy rate for UFC 168 is still unknown at the moment, this chart only goes up until UFC 167.
The above chart illustrates in sharp relief the hit in viewership UFC PPV "Prelims" took as a result of the move to FS1. Viewership for PPV "Prelims" has fallen approximately 30 percent since UFC switched networks.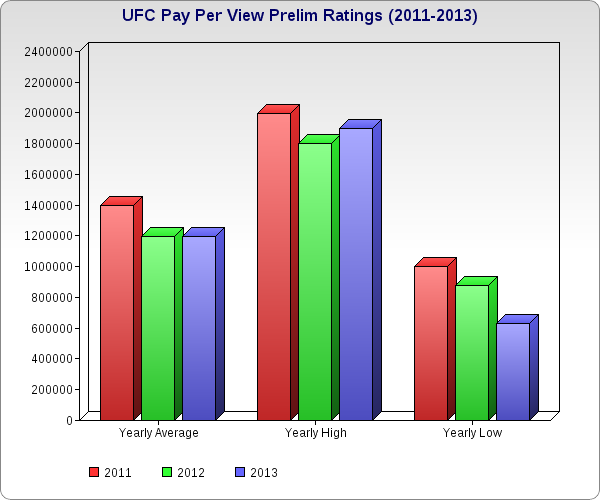 Despite the precipitous drop in viewership at the end of the year, on average, UFC "Prelims" ratings in 2013 were right in line with 2012.
However, since the start of the FOX deal, UFC "Prelims" ratings have yet to reach the heights they were at on Spike TV in 2011.
UFC Fight Night
Note: UFC Fight Night 30 is missing from this chart because it aired on FS2, thus making it irrelevant to this set of data.
When UFC debuted on Fox Sports 1 on Aug. 17, with a stacked UFC Fight Night 26 card that did 1.7 million average viewers, it appeared the transition from FX to FS1 was going to go smoother than anyone imagined.
However, from there viewership tanked. UFC Fight Night 27, which aired less than two weeks following UFC Fight Night 26, was down nearly 52 percent from its predecessor. Ratings bombed for UFC Fight Night 28, which was down a whopping 68 percent from the Aug. 17 show.
Obviously, a Wednesday show with an early start time and a main event of Glover Teixeira vs. Ryan Bader like UFC Fight Night 28 wasn't designed to deliver the kind of numbers the stacked UFC Fight Night 26 card was, but a live UFC fight card attracting just 539,000 average viewers on a network with the penetration of FS1 would have seemed inconceivable one year ago ... and downright preposterous in 2011.
Setting a new basement for viewership is never a good thing, no matter how one tries to spin it.
UFC Fight Night viewership has steadily inched upward since hitting rock bottom with the Teixeira vs. Bader-headlined card on Sept. 4. However, it has yet to reach the 824,000 viewers mark set by UFC Fight Night 27, let alone approach the massive number of the Chael Sonnen vs. Mauricio "Shogun" Rua headlined FS1 debut on Aug. 17.
UFC on FX and UFC on FUEL TV
Although UFC on FX may be a thing of the past, it's worth noting the series drew by far its highest rating for the Jan. 17 meeting between Vitor Belfort and Michael Bisping. UFC followed this number up with a solid rating for the May 18 show, which also featured Belfort in the main event, this time taking on Luke Rockhold.
It should also be mentioned that Belfort vs. Dan Henderson headlined a UFC Fight Night card that aired on Nov. 9 on FS1, and only drew an average of 722,000 viewers. That's down 62 percent from what Belfort did against Bisping in January and 44 percent less than what he drew against Rockhold in May.
With Belfort set to challenge Middleweight champion Chris Weidman, it does the promotion of that fight no favors that "The Phenom's" last victory was witnessed by such a small audience.
There was also an uptick in viewership for UFC on FUEL shows during the early half of 2013. Although UFC on FUEL 7 and UFC on FUEL 9 appear to be down in the ratings, they both actually drew well considering they took place in the afternoon, which is a time when many MMA fans aren't used to watching UFC.
The March 3 show, headlined by Wanderlei Silva vs. Brian Stann, was a massive success, more than doubling the company's previous benchmark on FUEL.
What the late blooming success of both UFC on FX and UFC on FUEL could indicate is that, for whatever reason, it does take time for MMA fans to migrate over to a new network (despite this traditionally not being the case for pro wrestling promotions like WWE).
How this hypothesis squares away with the massive ratings on FS1 for UFC Fight Night 26 and the UFC 168 "Prelims" remains a mystery, however.
Ultimate Fighter Ratings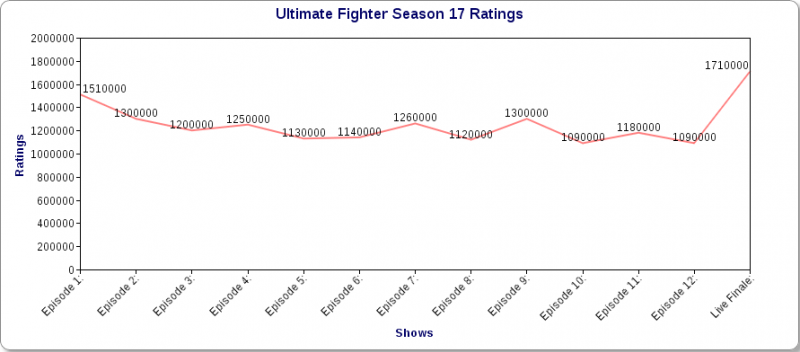 TUF had a bad year ratings-wise in 2012. Late that year the call was made to slot Jon Jones and Chael Sonnen as coaches of season 17, set to premiere in Jan. 2013. It was an attempt to provide a shot of adrenaline to a flat-lining series.
For the most part it succeeded.
Although TUF 17 ratings generally weren't stellar for the majority of the season, they never dipped below the million viewer mark, like seasons 15 and 16 did with regularity.
The live Finale drew a huge 1.7 million viewers, which was a fantastic number by recent UFC standards. If the point of Sonnen and Jones being selected as coaches was to shock TUF back to life, mission accomplished.
Interpreting this chart of TUF 18 viewership on FS1 is deceptively tricky. While on the surface ratings for the Ronda Rousey and Miesha Tate-coached season appear dismal, there is a caveat here: According to veteran MMA reporter Dave Meltzer, DVR viewership was far higher for TUF 18 than any other season in the history of the franchise.
This means that, although the show never did more than 870,000 viewers before the live Finale, there were often a million viewers or so watching each week when you factor in DVR viewership and later replays.
The rules are very different on a fledgling network like FS1 than they are on an established powerhouse like FX. While a two-week run of ratings less than 500,000 just might be enough to spell the end of TUF -- at least in primetime -- on a network like FX, the show still delivered decent ratings per FS1's far lower standards.
Most importantly from UFC's perspective, judging from the atmosphere in MGM Grand Garden Arena at UFC 168 -- and from reports from fans who watched the fight at sports bars across the nation -- it appears enough of UFC's fanbase saw TUF 18 to make Rousey vs. Tate a major match fans were clamoring to see.
Ultimately, selling fans on the idea of paying for the coaches' fight should be one of the major purposes of every season of TUF. While it may not have done boffo first run ratings, TUF 18 did a very good job of selling fans on Rousey vs. Tate.
The above chart compares noteworthy TUF ratings dating back to season 14, which was the last to air on Spike TV. Worth pointing out here is the incredible 56 percent plummet from TUF's average rating of 1.6 million on for season 14, to the just shy of 700,000 on average who watched TUF 18 live.
--------------------------------------------------------------------------------------------------------------------------------------------------
List of All American UFC Television Ratings in 2013
The following figures state the average number of viewers for each show. Ratings were compiled primarily using statistics found on MMAMania.com, MMAFighting.com, WrestlingObserver.com and MMAPayout.com.
As the buyrate for UFC 168 is still unknown, the list of PPV buyrates at the bottom of this list is still incomplete, but will be updated as soon as the UFC 168 buyrate comes out.
UFC On FOX Ratings (Yearly Average: 3.3 million viewers)

UFC ON FOX 6 (Johnson vs. Dodson): 4.2 million viewers
UFC ON FOX 7 (B. Henderson vs. Melendez) 3.7 million viewers
UFC on FOX 8: (Johnson vs. Moraga): 2.4 million viewers
UFC on FOX 9 (Johnson vs. Benavidez): 2.8 million viewers

UFC on FOX Prelim Ratings (Yearly Average: 944,250 viewers)

UFC on FOX 6 Prelims on FX (Grant vs. Wiman): 1.2 million viewers
UFC on FOX 7 Prelims on FX (Mendes vs. Elkins): 1.06 million viewers
UFC on FOX 8 Prelims on FX (Masvidal vs. Chiesa): 904,000 viewers
UFC on FOX 9 Prelims on FS1 (LaFlare vs. McGee): 613,000 viewers
UFC On FX Ratings (Yearly Average: 1.6 million viewers)

UFC on FX 7 (Belfort vs. Bisping): 1.9 million viewers
UFC on FX 8 (Belfort vs. Rockhold): 1.3 million viewers

UFC on FUEL TV Ratings (Yearly Average: 307,250 viewers)

UFC on FUEL TV 7 (Barao vs. McDonald): 195,000 viewers (Afternoon broadcast).
UFC on FUEL TV 8 (W. Silva vs. Stann): 485,000 viewers
UFC on FUEL TV 9 (Mousasi vs. Latifi): 236,000 viewers (Afternoon broadcast).
UFC on FUEL TV 10 (Werdum vs. Nogueira): 313,000 viewers
UFC Fight Night on FS1 Ratings (Yearly Average: 831,286 viewers)

UFC Fight Night 26 (Sonnen vs. Shogun): 1.7 million viewers
UFC Fight Night 27 (Condit vs. Kampmann): 824,000 viewers
UFC Fight Night 28 (Teixeira vs. Bader): 539,000 viewers
UFC Fight Night 29 (Shields vs. Maia): 638,000 viewers
UFC Fight Night 31 (Kennedy vs. Natal): 641,000 viewers
UFC Fight Night 32 (Belfort vs. D. Henderson): 722,000 viewers
UFC Fight Night 33 (Bigfoot Silva vs. Hunt): 755,000 viewers

UFC Fight Night on FS2 Ratings (Yearly Average: Not Applicable)

UFC Fight Night 30 (Machida vs. Munoz): 122,000 viewers (Afternoon broadcast).
Ultimate Fighter Ratings

Ultimate Fighter Season 17: Team Jones vs. Team Sonnen (Season Average 1.21 million viewers, 1.25 million viewers including the live finale)

Episode 1: 1.51 million viewers
Episode 2: 1.30 million viewers
Episode 3: 1.20 million viewers
Episode 4: 1.25 million viewers
Episode 5: 1.13 million viewers
Episode 6: 1.14 million viewers
Episode 7: 1.26 million viewers
Episode 8: 1.12 million viewers
Episode 9: 1.30 million viewers
Episode 10: 1.09 million viewers
Episode 11: 1.18 million viewers
Episode 12: 1.09 million viewers
Live Finale: 1.71 million viewers

Ultimate Fighter Season 18: Team Rousey vs. Team Tate (Season Average: 632,000 viewers, 667,000 viewers including the live finale)

Episode 1: 672,000 viewers
Episode 2: 870,000 viewers
Episode 3: 639,000 viewers
Episode 4: 778,000 viewers
Episode 5: 640,000 viewers
Episode 6: 725,000 viewers
Episode 7: 672,000 viewers
Episode 8: 476,000 viewers (note: this episode featured interviews spliced with previously aired footage).
Episode 9: 452,000 viewers
Episode 10: 583,000 viewers
Episode 11: 561,000 viewers
Episode 12: 510,000 viewers
Episode 13: 635,000 viewers
Live Finale: 1,129,000 viewers
Pay Per View Prelim Ratings (Yearly Average: 1,161,000 viewers)

UFC 156 Prelims on FX (Dunham vs. Tibau): 1,897,000 viewers
UFC 157 Prelims on FX (Schaub vs. Johnson): 1,267,000 viewers
UFC 158 Prelims on FX (Cote vs. Voelker): 1,579,000 viewers
UFC 159 Prelims on FX (Khabilov vs. Medeiros): 1,382,000 viewers
UFC 160 Prelims on FX (Pyle vs. Story): 1,300,000 viewers
UFC 161 Prelims on FX (Shields vs. Woodley): 968,000 viewers
UFC 162 Prelims on FX (Craig vs. Leben): 1,363,000 viewers
UFC 163 Prelims on FX (Perosh vs. Magalhaes): 1,000,000 viewers
UFC 164 Prelims on FS1 (Tibau vs. Varner): 824,000 viewers
UFC 165 Prelims on FS1 (Jury vs. Ricci): 722,000 viewers
UFC 166 Prelims on FS1 (Boetsch vs. Dollaway): 628,000 viewers
UFC 167 Prelims on FS1 (Cerrone vs. Dunham): 998,000 viewers
UFC 168 Prelims on FS1 (Hall vs. Leben): 1,554,000 viewers

Approximate UFC PPV Buyrates (Yearly Average: 421,000 buys - pending UFC 168's buyrate)

UFC 156 (Aldo vs. Edgar): 330,000 buys
UFC 157 (Rousey vs Carmouche): 450,000 buys
UFC 158 (St. Pierre vs. Diaz): 950,000 buys
UFC 159 (Jones vs Sonnen): 530,000 buys
UFC 160 ( Velasquez vs Bigfoot Silva): 380,000 buys
UFC 161 (Evans vs. D. Henderson): 140,000 buys
UFC 162 (A. Silva vs Weidman): 550,000 buys
UFC 163 ( Aldo vs Jung) 180,000 buys
UFC 164 (B. Henderson vs. Pettis): 270,000 buys
UFC 165: (Jones vs. Gustafsson): 310,000 buys
UFC 166: (Velasquez vs. Dos Santos): 330,000 buys
UFC 167: (St. Pierre vs. Hendricks): 630,000 buys
UFC 168: (Weidman vs. A. Silva II): As of yet unknown
Get the latest gear