No, Ultimate Fighting Championship (UFC) Light Heavyweight Champion Jon Jones is not going skiing.
That giant boot on his left foot is to help protect the toe he injured in his technical knockout win over Chael Sonnen at the UFC 159: "Jones vs. Sonnen" pay-per-view (PPV) event (see it here), which took place at the Prudential Center in Newark, New Jersey, on April 27, 2013.
See the NSFW GIF here.
"Bones" got "great news" from his doctors this week, tweeting that the alignment of his bones are "healing spot on" and the skin is "closing with no infections."
Loving my new heavy duty boot!! great news from the doctors today http://t.co/zb5cG7mWEl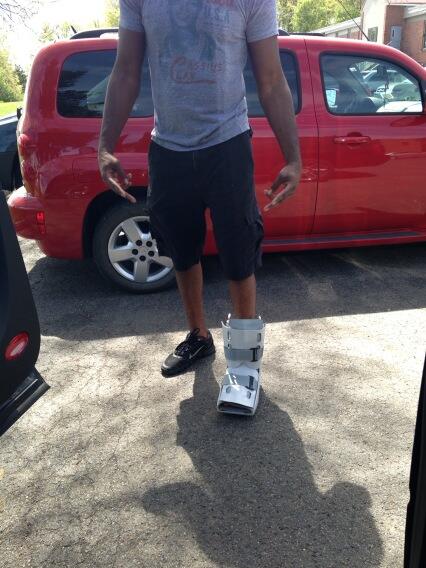 Das boot.
Jones was able to escape the "Garden State" without breaking his toe, so repairing the dislocation (and skin damage) will take approximately six weeks. Following that, the lanky-but-lethal light heavyweight champion can focus on rehab and strength training.
That's according to this doctor.
Looks like everything is proceeding according to plan and it's not unreasonable to think he'll be back before the end of the year. The question now is, who do you want to see him fight next?
For more on his injured toe click here.
Get the latest gear