Ultimate Fighting Championship (UFC) Light Heavyweight Champion Jon Jones suffered a gruesome toe injury during his first-round beatdown of Chael Sonnen at the UFC 159: "Jones vs. Sonnen" pay-per-view (PPV) event last Saturday night (April 27, 2013) at the Prudential Center in Newark, New Jersey.
See the horrifying GIF here.
Immediately following the finish, cageside color commentator Joe Rogan announced that "Bones" was injured, as medical personnel rushed into the cage to address the wound. Jones continued his post-fight interview, and proceeded to field questions shortly thereafter at the post-fight press conference (watch it here).
Mangled toe and all.
That didn't sit well with outspoken doctor Johnny Benjamin, who pens a regular column about mixed martial arts (MMA) safety, as he took the medical team to task for their decision-making process on the scene, comparing the situation to that of fallen NCAA athlete Kevin Ware.
Who's making medical decisions at UFC? Why was he at press conference wasting valuable time? Remember treatment Louisville's Ware got?
Dr. Jeremy Frank piles on.
@DrJCBenjamin who let Jones eat prior to surgery for open fx?Treatment in ER only for open fx is highly questionable http://t.co/MMCqVA4ZYS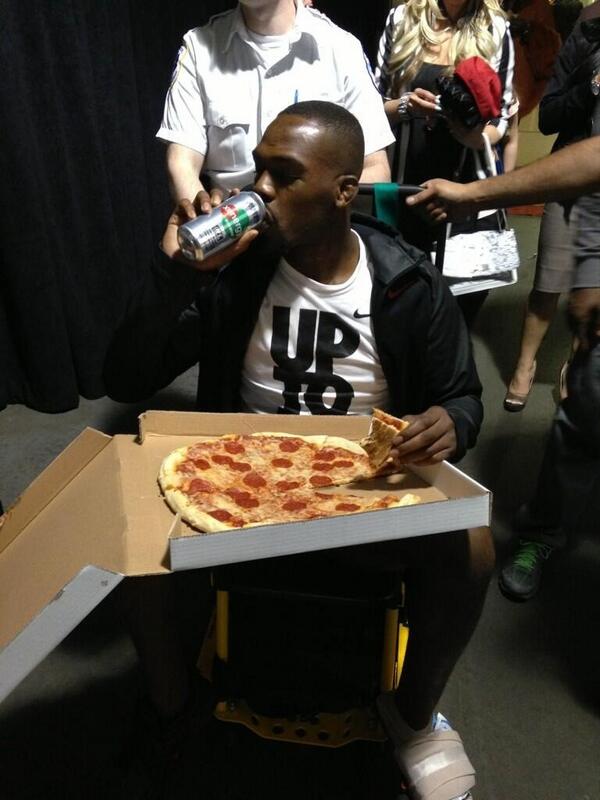 Dr. Michael Kelly, the first physician inside the Octagon after Jones was injured, is the man responsible for cleaning and dressing the toe. And he's not too pleased with the comments from the peanut gallery, as he explains to Josh Rosenblatt at Fightland:
I've read some of the criticisms that have been making their way around the Internet about what we should have done as doctors. I know there's a doctor who writes a lot about MMA but doesn't really cover any shows who always has a lot to say, and he derives most of his opinions from pictures on the Internet, which I think is somewhat irresponsible.

The treatment for a compound fracture is to clean up the wound, have it set, and then use antibiotics to make sure there's no infection. I saw that somebody had said it was sutured and he was allowed to just walk on it. It wasn't the case. It wasn't sutured in the arena. Jones wasn't walking on an open wound. That sounds like a silly quote from someone who doesn't work many fights. Many fighters get cuts and wounds during their bouts and they're cleaned up and covered or sutured and allowed to go about their day. The wound was cleaned, it was dressed; there were no sutures placed at the event. The injury was splinted and closed and covered with a dressing, and arrangements were made to have him taken to the emergency room.

As for the criticism that Jones shouldn't have been allowed to go to the post-fight press conference before going to the hospital, everybody that practices medicine knows that a patient has a right to autonomy and to make their own decisions. You can't force them to do anything. If he wanted to talk at the press conference, he had every right to, as does any other patient. You can't force them to go to the emergency room that second. If they're awake, alert, and oriented, and they can make a reasonable decision, they can decide when to go. It wasn't a life-threatening issue, contrary to the nonsense I've seen on the Internet. It's very funny when you're there looking at something and then you see what propagates and how things get twisted and distorted. But it happens from time to time. Everybody plays Monday morning quarterback.
See what the champ had to say about how the situation unfolded right here.
Jones was later admitted to the hospital and subsequently tweeted a photo of the finished product (see it here). He's expected to stay off the injured piggy for six to eight weeks, when he can then begin working on getting his foot back into fighting shape.
For more on his recovery, as well as the rest of the UFC 159 fallout, click here and here.
Get the latest gear