It's all good in the hood.
Famed mixed martial arts (MMA) trainer Cesar Gracie was back in the news earlier this week when UFC Tonight reported that one of his star pupils, former Ultimate Fighting Championship (UFC) lightweight number one contender Nate Diaz, had jumped ship to seek management elsewhere.
See how it all went down here.
A few days later, Gracie tweeted that their "demise" was "greatly exaggerated."
Reports of our demise are greatly exaggerated @ufc@arielhelwani@NateDiaz209@nickdiaz209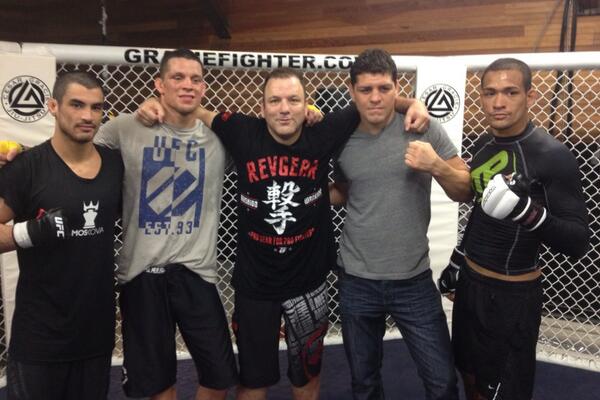 It looks to be all smiles in the 209.
It should be noted, the original report indicated that Diaz would retain Gracie's services as trainer, but outsource his career management to Mike Kogan. The above photo doesn't really do much to refute that claim, but at least Nate looks to be in good spirits ahead of his next fight.
The Ultimate Fighter (TUF) 5 champ is next scheduled to compete against Strikeforce import Josh Thomson at UFC on FOX 7: "Henderson vs. Melendez" on April 20, 2013, at the HP Pavilion in San Jose, California.
More on that fight here.
Get the latest gear