The UFC 158: "St. Pierre vs. Diaz" pre-fight press conference went down earlier today (March 14, 2013) and fighters competing in the top three headlining bouts --Georges St. Pierre, Nick Diaz, Johny Hendricks, Carlos Condit, Jake Ellenberger, Nate Marquardt -- along with UFC President Dana White were in attendance at the Bell Centre to answer questions from members of the media regarding the upcoming March 16, 2013, event in Montreal, Quebec, Canada.
If you missed the memorable presser, watch all 40 minutes of it, right here, right now. Do not go any further ... trust me. Then come back so this post makes sense.
The press conference was a fitting second act to last week's heated media call (listen to it here), as once again Diaz stole the show with his trademark tangents and verbal exchanges with welterweight champ St. Pierre.
While the presser was extremely entertaining in itself, the reactions from the Twitterverse during and after made the entire situation even better.
Check out the top Twitter reactions from fighters, fans and media below.
Here we go - verbal warfare with GSP vs Diaz. Nick going after Dana as well.
I am dying. This is the greatest thing ever. Of all the times.
Diaz interrupts a question to take another shot a St-Pierre. "Why you mad, bro?"
Condit is f*cking dying on stage. This is hilarious.
Whoa. Nick just can't stop.
Man, just imagine if Nick Diaz actually had something real to be pissed off about.
GSP says he's not angry by all of this. "I focus on myself." Nick is staring at him as he speaks. http://t.co/BFYpL1gxfg
Little-known fact: Jake Ellenberger is here too. Hi Jake! http://t.co/p1fQFG5aW6http://t.co/WFywKANvYL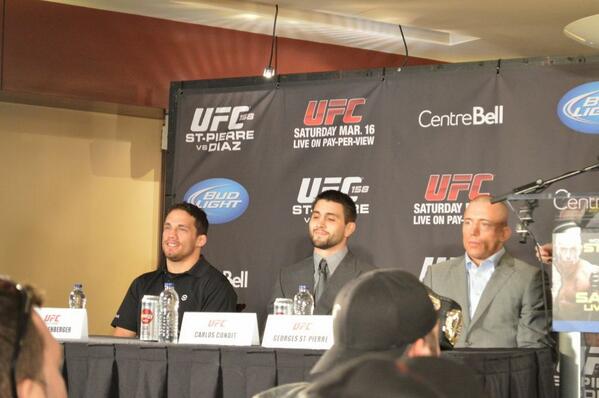 Diaz "I'm sorry if I don't pass the test, but everything should work out."
Poor Carlos , no one asked him a question . #UFC158
And that concludes the latest episode of The Nick Diaz Show.

For the latest and greatest UFC 158-related news and notes check out our complete event archive right here.
Get the latest gear