FanPost edited and promoted by MMAmania.com
We're only halfway through the 2001 fight campaign but UFC 132 has made a strong case for "Card of the Year." Incredible knockouts, great title fights, and one of the biggest surprise endings I have ever seen. The "Huntington Beach Bad Boy" left a large part of the viewing audience with its mouth agape.
Ortiz came into the fight as much as a +400 underdog and absolutely shocked us all by stumbling Bader and finishing him with a guillotine choke just 1:56 into round one. Ortiz appears to have revived his MMA career, at least for now, with the upset and has even earned a rematch against one of the top prospects in the division, Rashad Evans.
Not bad for a guy on the verge of expulsion.
So this got me thinking. What have been the most shocking submission victories in MMA history? I'll give you my top five. First, I want to specify the criteria for my list. These are not submissions that were just incredible to watch. There are plenty of those, even from this year.
Pablo Garza's flying triangle, Chan Sung Jung's twister, Werdum tapping Fedor, and many more that I could pick from in recent history. This list is made up of guys who shocked us all for a different reason. It could be because nobody thought they even knew what a rear naked choke was, they submitted someone who was a far better grappler, or in one special case, I thought a man was dead and he tapped his opponent only seconds later.
This list is not just about the submission, it's about the fighter's who pulled them off.
Oh wow, Royce Gracie submitting someone. What's so special here? Settle down and let me explain. Travel back with me to 1993. You're rocking your hammer pants and fanny pack. "U Can't Touch This" was playing on your walkman and you happen to stroll into the McNichols Arena in Denver, Colorado. There's an event there that you've never heard of called the UFC, but you heard that a bunch of guys were supposed to beat the stuffing out of each other. You see a guy from Brazil who appears to weigh about 75 pounds and a big hulking American competing in the same event. You've witnessed Gracie defeat Art Jimmerson by......intimidation and Ken Shamrock has defeated Patrick Smith with a heel hook.
Now, these two men are set to square off. Royce Gracie is known for some strange fighting style called "Brazilian Jiu Jitsu."  
At the time, no one knew anything of this specific art and thought the same thing as Ken Shamrock thought when he saw him standing across the cage in a gi. This guy must be some type of karate guy. This should be over quickly. Gracie shoots in for a takedown and doesn't land it but ends up in guard. Shamrock sits back for his second straight heel hook victory but Gracie follows him up. From there, Gracie eventually gets the back and locks in some sort of crazy choke which........WAIT! WHAT!?!?! Shamrock tapped?!?!
Knowing what we know now, all of it makes sense. But at the time, it was one of the most shocking victories in combat sports. It was time for the world to meet Brazilian Jiu Jitsu. And we all did in Denver, Colorado at UFC 1 thru a small guy named Royce Gracie who won the tournament and gave this garage sport called "BJJ" a platform to get noticed on.
The Hunting Beach Bad Boy was, by most accounts, one fight away from that dark area called 'strongly suggested retirement'. The fans, MMA media, and the Vegas odds makers largely thought that Ryan Bader defeating Tito Ortiz was a lock. The real question was what would happen to Ortiz after the bout? Ryan Bader was one of the organization's young superstars who had his stardom squashed by another up and comer, Jon Jones. Ortiz was given to Bader as a rebound fight and it was largely thought that this fight woud propel Bader back into the light heavyweight mix. Apparently, Tito didn't get the memo.
Ortiz shocked us all by landing a short right to Bader's jaw which sent the young fighter to the mat. Bader recovered momentarily and attempted to get back to his feet but got caught in a guillotine, of all things, by the elder Ortiz.
Ortiz sat back with the arm-in guillotine and held on until Bader was forced to tap just 1:56 into the first round.
This isn't the first time we've seen Ortiz nearly shock the world with his come from nowhere submissions. You will remember at UFC 84, Ortiz was taking a bruising at the hands of Lyoto Machida until he nearly locked in a triangle at the end of the third round. It was not the most technical submission and Machida would escape the submission and go on to defeat Ortiz by unanimous decision. Had Tito pulled this one off, it would have likely made this list instead of the guillotine he got on Bader.
Ortiz now has 3 total submission wins in his career. One of them was submission due to knees and the other came back in 2000. It has been an eleven year drought of submissions for the HB Bad Boy and it couldn't have come at a better time. The opponent, the stage, and the shock of this guillotine put it in the #4 spot.
Matt Hughes is a far cry from submission defecient. He has 18 submission wins in his 53 fight professional career. But at UFC 117, nobody expected to see any of the submission wizardry. Hughes was paired against Ricardo Almeida. Prior to his bout with Almeida, Hughes had defeated Renzo Gracie in a lackluster three round affair in Abu Dhabi. Almeida would get the chance for revenge at UFC 117.
Almeida is a long time student of Renzo's. In fact, Ricardo was the very first person to ever recieve a black belt under the legendary Renzo Gracie. Almeida is now a 3rd degree black belt with 4 Brazillian National Titles in jiu jitsu, a Pan Am Gold, and a Silver Medal at the ADCC tournaments. Although Gracie might not have faired well against the farmboy from Iowa, surely his younger and more explosive student Ricardo would be able to handle him. Especially if the two battled it out in the submission game.
The fight started with very little action. The two men circled on the outside exchanging a few punches and kicks. That was until Hughes landed a left hook that stumbled Almeida. Hughes rushed in and caught Almeida in a front headlock position.
It was hard to see exactly what was happening in the transition but it appeared the Almeida had escaped the initial on slaught of Hughes. That was until he went flat to the mat unconscious.
During their time in the front headlock position, Hughes was locking up a modified anaconda choke that is rarely used in MMA. Most people, myself included, had no suspicion that Hughes was locking in anything that would be effective. Especially against a man of Almeida's caliber. But although it didn't look like much, there's no doubting that it did the job. Almeida went limp and fell to the mat forcing the ref to halt the bout at 3:15 of Round 1. Hughes, who has battled ups and downs in recent years, proved that he's still got some tricks up his sleeve. Including this "Farmaconda".
The Last Emperor has had some pretty impressive finishes in his career. Prior to the past two years, Fedor was the most feared man in MMA.
Regardless of organization. He had a nearly ten year run without a single loss. He wasn't facing bottom of the barrel fighters during this time either. He beat guys like Ricardo Arona, Renato Sobral, Antonio Rodrigo Nogueira and Mirko Cro Cop. Although he had wins over all of these men, there is still none better than his victory over Kevin Randleman.
Fedor and Kevin Randleman squared off at Pride Critical Countdown 2004 in Saitama, Japan. Randleman was a powerful D-1 wrestler and former UFC champion who was coming off of a big upset win against Mirko Cro Cop. The two men would square off in the second round of the Pride Heavyweight Grand Prix.
Randleman used his wrestling to secure an early takedown and would eventually get Fedor's back in the ensuing scramble. Randleman took Fedor for a ride and tossed him to the canvas, head-first, with a German Suplex.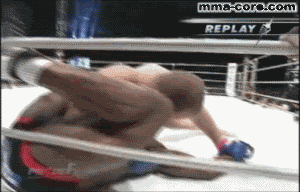 Randleman slammed him so hard that it's shocking Fedor would not only emerge without serious injury, he seemed to just shake it off.
Once on the ground, Fedor gained top position and transitioned quickly to a kimura and locked it in tight. Randleman was as likely surprised as the rest of us and was caught without an escape. Randleman tapped just 1:33 into Round 1. Say what you want about Fedor's recent years, moments like this make him one of the all time greats and his kimura over Kevin Randleman earns him the number 2 spot on my list.
C'mon, what else were you expecting? It's that famous gif you've seen a million times. Anderson Silva gets heel hooked by "that one guy". "That one guy"'s name is Ryo Chonan and there's probably a few things you didn't know about him.
We all are aware of "The Spider" Anderson Silva. Silva is widely considered the top pound for pound fighter in MMA and by the time it is all over, he may go down as the greatest mixed martial artist of all time.
But back in 2004, before Silva became the "Anderson Silva" that we know today, he was fighting in Pride. Silva only has 4 losses in his 34 fight career and only 2 of those losses have been by submission. One of them will be have him "posterized" for years to come.
The man who defeated Silva that day, Ryo Chonan, has a much more mediocre record in MMA at just 19-12. But what you may not know about him, is that he only has 2 submission wins on his record. This gem and a fight back in 2002 where his opponent submitted to punches. That means that the only "legitimate" jiu jitsu submission win on his 31 fight record is this heel hook against one of the greatest current fighters in MMA. A rather interesting fact.
The end came 3:08 into Round 3 for Silva. "The Spider" may have won the war for 'MMA stardom' with Chonan, but Chonan won this battle. And this gif will live on for eternity to remind us of the night 'that one guy' scored an amazing flying heel-hook against one of the greatest of all time. Chonan may never get ranked #1 on anyone's top fighter list, but he easily got that spot on this one.
Honorable Mentions:
Kazushi "The Gracie Hunter" Sakuraba vs. Jason "Mayhem" Miller (DREAM 16)
Chris Leben vs. Yoshihiro Akiyama (UFC 116)
Brock Lesnar vs. Shane Carwin (UFC 116)
If you enjoyed my post, please like my stuff on facebook! 
Now it's time for you to tell me where I screwed up.  How would you edit the list?  Who would you add, who would you take away, and who gets honorable mentions? Pablos Garza's flying triangle at UFC 129? Chan Sung Jung's twister at UFC Fight Night 24?
Sound off!