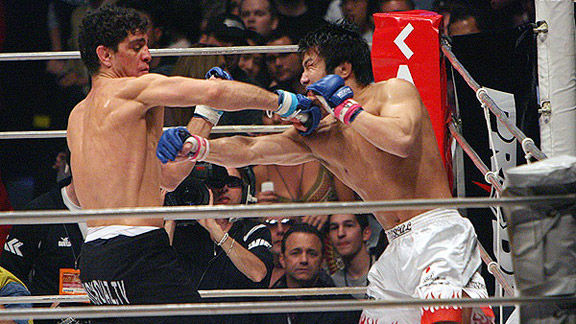 Nick Diaz is the reigning Strikeforce welterweight champion and hasn't lost a fight in over three years. In that time, he's finished all of his opponents but one. This domination across three different promotions has earned the Stockton, CA native a top ten ranking in his weight class.
There was a time, however, when Diaz wasn't considered one of the sport's elite. He dropped four bouts in the UFC, including three in a row. Although he left the company with two consecutive wins under his belt, his inconsistency kept his name from being mentioned along with welterweight greats like Matt Hughes and Georges St. Pierre.
That all changed on Feb. 24, 2007, when he faced off against the number one lightweight in the world, Takanori Gomi at Pride 33: "The Second Coming." He stood toe-to-toe against the knockout artist, suffered a broken orbital bone and still managed to submit Gomi in spectacular fashion.
Before Diaz defends his title for the third time against Paul Daley this Saturday, we'll take a look at his epic battle with "The Fireball Kid," a fight that Diaz technically didn't even win, despite his insane gogoplata finish.
Diaz had an unimpressive 6-4 record in the UFC. On the surface, the win-loss ratio screams "washout." A closer examination shows that those losses came to guys like Sean Sherk, Karo Parisyan, and Diego Sanchez. And not one of them could finish the tough BJJ black belt.
He was cut after the loss to Sherk but was brought back four months later to fill in as a last minute replacement. He ended up going 2-0 during that tenure but opted not to re-sign with the organization. In what might have been somewhat of a conflict of interest, the Cesar Gracie trained fighter signed with Gracie Fighting Championships instead. When they were unable to book him a fight, he signed with UFC's main rival Pride FC. Needing some star power to bolster their second US event, Pride matched Diaz against their Lightweight Champion Takanori Gomi.
Gomi, who was previously best known for losing to B.J. Penn in Hawaii, had been on a tear in his native Japan. The wrestler, who only had one technical knockout on his record prior to the Penn fight, began knocking out almost every fighter they put in front of him. A minor bump in the road in the shape of Marcus Aurelio was avenged and "The Fireball Kid" was sitting pretty atop the Pride FC -- and the world's -- lightweight mountain.
The two met in Las Vegas at the Thomas and Mack Center in a non-title bout. Something that still makes me chuckle is that Pride describes Diaz as having "a chip on his shoulder."
Gee, ya think?
The bout kicks off and Gomi immediately shoots in for a takedown and takes Diaz's back. The Brazilian jiu-jitsu (BJJ) black belt tries to flip into a kimura but is instead met with some ground and pound courtesy of "The Fireball Kid." Diaz peppers Gomi with pitter patter punches and uses the distraction to throw up a triangle attempt that the Japanese lightweight is able to shrug off. 
After a stand up, the two fighters begin to exchange. Diaz prefers to stick his long arm out and use his reach advantage to jab Gomi while "The Fireball Kid" swings without mercy, landing power shots against Diaz's head and body. One such punch drops the 209 representative and the crowd -- along with the announcers -- erupts.
Gomi dives in after his opponent and once again achieves back control. The BJJ black belt puts his years of training to use and is able to slide onto his back to force another stand up. The cobwebs seem to have been shaken from Diaz as he restarts the gameplan he had before the knockdown.
The former UFC star begins to put together combinations of seemingly weak punches that cumulatively mount up damage. Fans are familiar with Diaz doing this now but at the time, we had never really seen what the Cesar Gracie fighter had in his stand up arsenal. 
The gameplan seems to be working, as Diaz is almost landing at will while Gomi can't keep his hands up. The American will land three, four, sometimes five punches while the Pride Lightweight champion will swing and whiff with one big punch. At the end of the first, Gomi looks exhausted. Diaz is fresher but also a bloody mess.
The bell sounds off for the second and the fight immediately begins where it left off. Gomi has more bounce in his step but he's still missing wildly while Diaz connects with crisp combinations. The American backs him into a corner and finally Gomi is able to land a solid combination to the body and head. 
That punch to the head forces a short stoppage as it's opened up a huge gash under Diaz's right eye. Unknown to those watching, Diaz's eye socket has been cracked. Tough as he is grumpy, Diaz meets the Japanese fighter in the middle of the ring and continues to control the pace when the fight resumes.
Both are landing now in their own styles. Diaz with his ranged hooks and jabs and Gomi with his devastating body/head combinations. "The Fireball Kid" then looks to the referee and motions to his eye in an attempt, I think, to get the fight stopped as a result of the cut Diaz has suffered.
No such luck with that strategy and both fighters are forced to continue slugging it out. Perhaps looking for a breather or thinking the fight could be easier won on the mat, the Japanese fighter scoops Diaz's legs and takes him down. The BJJ black belt immediately slides his left leg up Gomi's back and then pulls it over his shoulder. He then slips his shin under Gomi's chin and digs it into his throat as he pulls down on the champion's head. The rarely seen gogoplata forces the tap just seconds later.
An incredible come from behind victory and a huge upset, to say the least. But the story doesn't end there.
Less than two months later, the biggest win of Diaz's career had been nullified, changed to a No Contest by the Nevada State Athletic Commission. The Stockton, CA fighter's level for THC, the active ingredient in marijuana, was an insane 175. To put that into perspective, a level of 15 would cause a fighter to fail.
The NSAC's rationale was that the drug acted as a painkiller and had Diaz's level not been so high (pun intended), he would not have been able to withstand all the punishment Gomi dished out to him.
Was Nick Diaz stoned when he took on Takanori Gomi? We may never know. Did they put on one hell of a fight? Absolutely. 
And that's all that matters, right?