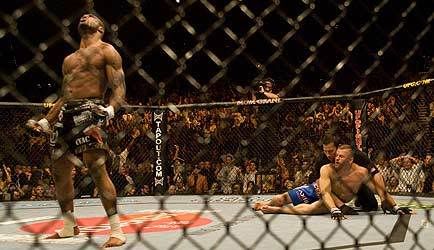 Photo courtesy of FOX Sports
Dana White recently told reporters that Chuck Liddell was only two fights away from cleaning out a division.
Too bad Rampage was only one fight away from cleaning his clock.
Jackson (like most main event fighters) made me look foolish by taking my prediction for a KO loss and flip-flopping it.
I'm okay with the result, I just wish the fight would have lasted longer.
And speaking of flip-flopping, did anyone else think that Jardine was going out after the two rights he landed on Alexander?
I'll bet Chris Leben wishes he could have landed two shots like that on Kalib Starnes. I don't want to sound like a hater but I think it's time to close the book on Leben. He's got all the dots but seems to have trouble connecting them.
I know Ivan Salaverry was contemplating retirement, but I don't think he wanted to go out head first.
The Burkman/Karo match was fight of the night in my book, and I would love to see Karo/Hughes at some point and even Burkman/Sanchez.
Sean Salmon, thanks for coming. I had him winning round one of the Evans fight back at FN 8, and I expected more of that same aggressive style against Belcher as well.
Looks like Salmon was a little too aggressive and now at 0-2 I wonder if we'll see him again as a full-time fighter.
On that note we probably won't see any more of Carmelo Marrerro after that dismal performance.
I had the misfortune of watching James Irvin TKO his own knee and I must say if you get the chance to watch it, don't! Pretty gruesome stuff.
Sean Sherk, Chuck Liddell, Din Thomas? When did he become the spokesman for UFC vs. Boxing? I know he was excited about defeating Jeremy Stephens but if we're going to war with another sport I want to make sure we have our best men on the front lines.
So Dana threw us a curve and announced Dan Henderson-not Shogun Rua or Brandon Vera as the next challenger for the light-heavyweight title.
Imagine if Hendo won? He would hold three titles at once - even though I'd rather see "Hollywood" at 185.
Anyone else starting to realize that Randy Couture is the smartest man in the game?
First he predicts that he can come out of retirement and beat the heavyweight champion.
He does.
Then he predicts (to much laughter) that Gonzaga will defeat Cro Cop.
He does.
Then he picks Rampage as the winner against Liddell.
Maybe I should call him and get Tuesday's lotto numbers. Seriously, this guy can do no wrong.
UFC 71 didn't do much wrong either, except for some of the brief endings but in this game it's one of the hazards of the job.
I'd much rather see a fight last only a minute and end in a devastating KO or a slick sub than have it go the distance and put me to sleep ala Marquardt/Salaverry.
The landscape has changed once again. Liddell and Jardine are coming off a loss and the Hendo has landed.
I haven't seen a division turned on its head like this since Serra toppled GSP and Sanchez went belly up against Koscheck at UFC 69.
And I couldn't be happier.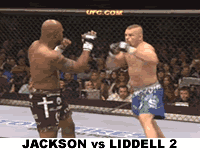 Get the latest gear