What's up ya bastards? So as I been shamelessly bragging about for the last few weeks, I obtained a press pass for Mayweather-Maidana covering the fight for fightsaga. I been a hack writer there for about 1 an a 1/2 years, previously I was ringside for Broner-Rees and Hopkins-Murat; but this was clearly the big show, so I was ways up instead of ringside.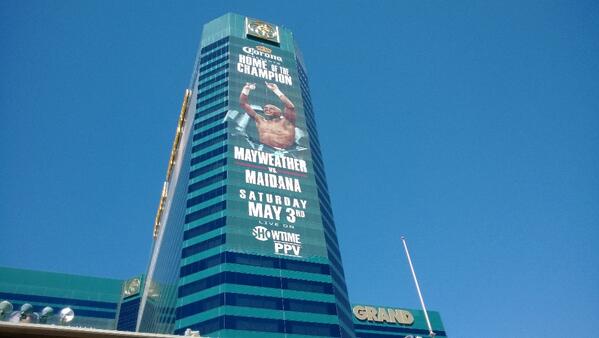 First off, less me explain that I'm only 20, a complete airhead, and find ways to make an ass out of myself very easily. Also traveling alone, all the above plus Vegas is probably not the best combo but fuck it, big opportunity.
With that in mind, I'll tell you a story about my journey to the airport. Now I never really flew before, last time I went, I was 7 or some shit. So when I went through TSA, I had no idea what to do, but I'm semi college educated, I figured it out. But here's where I make an ass out of myself.
TSA guy: You're fly (This is how I hear it, note you're)
Me: I can fly?
TSA Guy: No sir, I said you're fly
Me: Yeah I know, I just bought this hat (Thinking he means my hat is "fly"
TSA Guy: No sir, your fly (note "your")
Me: Oh thanks (Finally getting that he's talking about my zipper being down)
Like I said, typical airhead move from your average airhead. But I don't fully blame myself, for one your and you're; c'mon now I can't tell the difference when hearing that. I can tell it apart when reading, but this is why English is a screwed up language.
Also fly, I'm in a damn airport, if I hear fly I assume he's telling me to go fly. Also in the same instance, who came up with the idea of fly being a codeword for cool?? It's a zipper god damn it. Also my hat was dope as fuck, Purple and Green Anaheim "Mighty" Ducks snapback, Quack Quack!
Alright, so finally I board the plane, and land in Vegas after 4 or 5 hours. Flight wise, pretty smooth. Got in Vegas on Thursday. Vegas is hot as balls, but being from Philly it was a nice as hell.
I take a Taxi to the strip, actually didn't get ripped off so I tipped the guy what I woulda got ripped off for anyway.
Hotel wise I was staying in the Tahiti All Suite, but they didn't do check in till 4 (it was 9 AM there) and I honestly had no clue where it was. So I had the Taxi drop me off at MGM, but I still had no clue how the roads worked. So for the next 2 hours I walked around like an ass with my bag till I figured out you can tip the guy at MGM 5 bucks and he'll store your bags for a little bit.
I didn't quite grasp that he was asking when my plane was leaving as a "wink wink" then after an awkward exchange I finally caught wind of what he was trying to do, so I made up a plane time finally.
Now, change into some fancy clothes and off to the pre-fight press conference which started at 12.
I actually didn't do anything stupid here, but I was pretty astonished to find out they feed the press. I mean I knew there was a lunch, but I didn't think it'd be setup buffet style with some banging Mexican food.
The press conference was pretty short, Broner was acting like an ass, but that wasn't a surprise.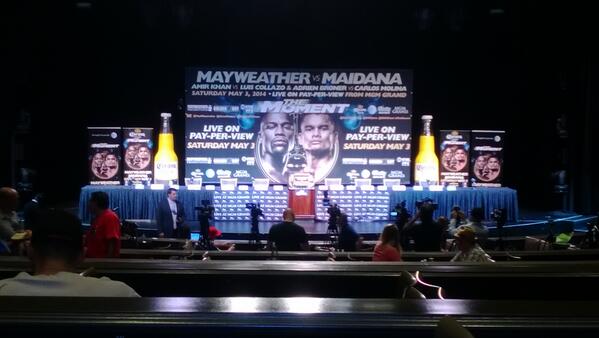 "Wrong way Stupid"
Now I'm out of there, it's about 1, and I still got a couple of hours before check-in time. So I decide to walk around, try and get an understanding of how the streets worked there, where things were, etc.
Like any vacation spot there are a ton of weirdo street performers. I see this Darth Vader guy and a Storm Trooper walking around. They start arguing pretend-like, and a guy goes hey Vader beat him with your light saber. So Vader pulls out a light saber and starts stroking it like a dick hahaha, I was dying at that shit. Bunch of weirdo there.
I later saw 2 Spiderman's appear on the same block, they see one another and I guess there's this unwritten weirdo costume street performer code that you don't wear the same costumes on the same block. So these guys start arguing and the one Spiderman is forced to go to another street.
Another magician guy was like "come everybody to the magic show, it's like Chris Angel, but not fucking gay."
Okay so it's about 3, I pick up my bags from MGM, off to the Tahiti... except I have no clue where it is. Also I'm dressed in black, so that "nice weather" I talked about became more of an annoyance. I GPS the address and find out it's about an 90 minute walk, but I figured everything was close and there must of been some system that connects stuff (note: there is if you're not a dumb fuck like me)
So I walk around everywhere thinking I'm going the right way, but not at all. I finally figure out that my hotel is near the Orleans and that Bally's has a shuttle that takes you there free. But Bally's is like a 40 minute walk and my phone died. So now I'm just walking straight, hot as hell, but gladly I was going the right way.
I arrive at Bally's, take the shuttle, but still have no clue where I am. I walk about 20 minutes one way, but it was the wrong way, so I walk back and go a different way... wrong way (note: this is like 5 minutes down the road North and I walked 20 minutes east, then 20 minutes south.) Finally at the hotel at 5, went to sleep. Also figured out my hotel had a shuttle I could of caught the whole time right across the street from MGM...
"Weigh In + Anthony Jeselnik"
So now it's Friday, I got everything figured out, take the shuttle to the New York New York, and catch it at any 20.
Now I go to the weight-in's, the arena had a crazy atmosphere. Before the weight-in's they brought out Bernard Hopkins, Danny Garcia, Keith Thurmond, Deontay Wilder, and even my boy Paul Williams.
I had an awesome press seat.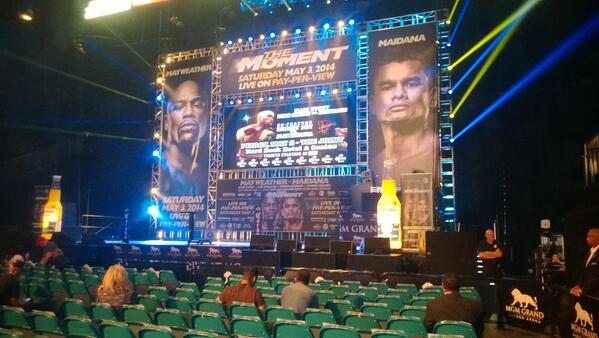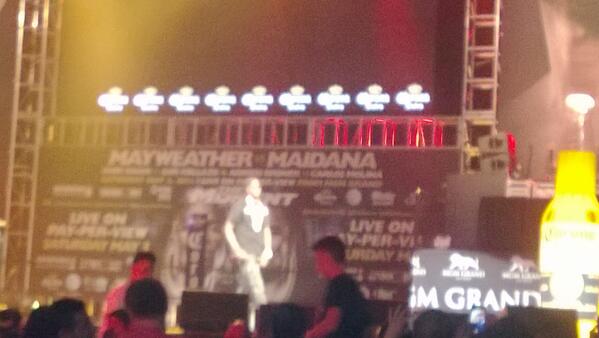 2 Chainz performed, I wasn't thrilled cause I think he's killing rap, but it's all good fun, he puts on a show I guess.
Weight-in's are cool, but in Boxing it's not like MMA. MMA you got Bruce, Dana, Lorenzo, Rogan, and 2 Octagon girls plus the fighter and one trainer. Boxing, there's 8 ring girls, Jimmy Lennon, 3 announcers, a DJ, the fighters, their trainers, plus their promoter, manager, lawyer, barber... and like 20 other people on this small stage... insane.
After the weight-in's I find out one of my favorite comedians is in town Anthony Jeselnik. So I go see him, he's fucking great. He had some great bits, especially the "shark party" story. If you ever watched his comedy central show he had this bit where whenever a Shark killed somebody he'd throw a shark party and a bunch of strippers dressed like sharks would dance and he'd get a lap dance, then he showed a pic of the dude who got killed. New Zealand didn't appreciate that ha ha
If he's in your town go see him, he's hilarious. Got some lesbian chick with him Cameron Espinoza, funny chick.
"Fight Day!"
Vegas atmosphere on fight day is wild, if you're a fight fan, you got to put it on your bucket list to see a fight there. But the fights didn't start till like 2, so I thought I'd chill out for the day. Saw that Roy Jones Jr. Was coming to Mandalay and decided to stop by. But right next to it was the Luxor. Luxor is awesome, I heard that Bruce Buffer is there a lot, so I went to search to see if he'd be hanging out there, no go, but did find out he's there so much there poker room is called the "Bruce Buffer Poker room."
RJJ arrives and I was pumped to meet him. Shook hands with an ATG and got a pic and some autographed trunks (110 for the trunks, but who gives a fuck, my trip was covered by my tax returns anyways, so it was basically free in my mind.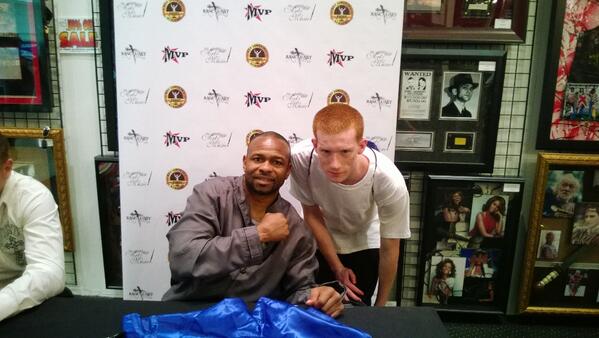 Here's an awkward pic (wouldn't a normal person kneel down and make a fist???) of me and the champ, I know ugly as fuck ;)
My phones dead now though, it's about 1, fights start at 3, but I ain't worried about the opening bouts too much. More important I charge my gear and get ready for the big show.
I'm charging up... then bam, surprise presser by Oscar that I missed. He addressed some very important things and I should of been there, big mistake on my part a bit, but it was alright, Kevin Iole hooked me up with quotes.
Now the fights start, and I notice my credentials say section 221. Usually I'm ringside, but I guess those were smaller shows, but I'm there, who gives a shit! Not the greatest seats to report from, but it's all about catching the atmosphere for me.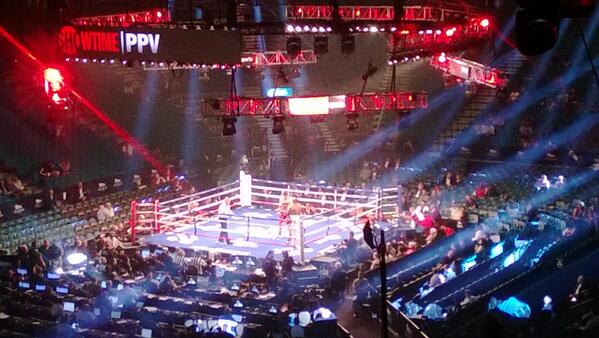 Pics zoomed in, not exactly my view
Man were the Argentinian fans awesome. I even seen a baby there with a Flag draped over him, they were going nuts!
I was quite surprised how empty the arena was for Broner's fight, he's a bigger star and a lot missed his fight. But the were probably lucky, it sucked pretty bad, which is odd because he's usually very fun to watch regardless of his stupidity.
Next up was Khan. Khan looked amazing! I was shocked, he is not the same fighter he used to be, way better. He should really fight Floyd next, but due to Ramadan he won't. Shame, actually would look forward to that.
Finally the main event; Wow! Marcos came out like a raging bull, I didn't think he could do that, but he did. I scored it 115-113 for Mayweather, but hat was an awesome fight.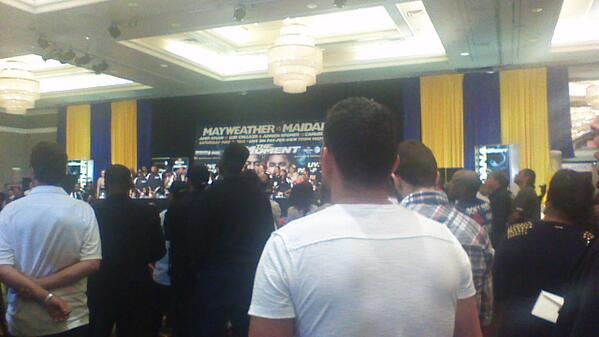 Guess who this is blocking my attempted pic of Mayweather at the stage? Yep, Nick Diaz was there, along with Nate. Great to see the Diaz bros, I was shocked how small Nick was, imagined he was a bigger guy. They're real cool guys, I didn't get a pic or nothing, didn't want to violate my credentials, Richard Schaeffer was already pissed about people talking and doing nonsense at the presser, so no pic but they're cool dudes. Nick kept making fun of Nate about something haha.
Also MGM security did a pretty bad job I guess, there was a fight on the escalator and a stampede broke out, but it wasn't as terrible as reported. No gun fire or anything, but defiantly dangerous. They really have to get better exit strategies, those hallways are too narrow.
Well that's a wrap, thanks if you made it this far haha! I'm thinking of coming back for July 4th for UFC week, I turn 21 the third. Seems like a sweet week to go.