Alright you fuckin Maggots, it's that time of the season again.
It's motha fuckin recruitment time.
Mania isn't just full of dumb fuck trolls and randy prepubescent perverts. It's also full of people who actually love mma and know their shit, think they know their shit, who just chat shit and some people who just don't know shit in general. We like to gamble, make bets and join a number of competitions against fellow Maniacs to prove who is the best. Who knows the most. Who's got the biggest kahoona's.
Basically, Mania is a site full of losers, who love to try and win no matter the cost.
Whether it's a sig bet, a ban bet or a cold hard cash bet, Mania has it.
Maniac's run a number of league's that are as competitive as anything on any other fuckin site.
This is where YOU cum come in.
Lets have a run down of what we are recruiting for.
Mania MoneyPool
Mania Freepool
MKL
Bracket Tourny

The Scotti Shrive Moneypool
is the biggest baddest league on Mania.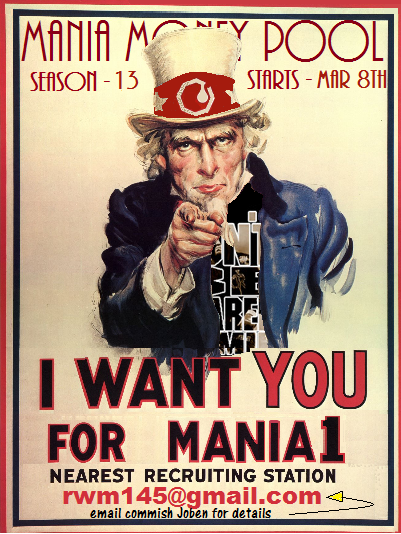 This league is based on the site mmaplayground. (Opens in new window).
This is an open league for the whole of Mania and even for some of those Bloody Vaggots. This league costs a heart breaking sum of $20. Thats just 2 fuckin dollars per event. You pick fighters method of victory, you rack up the points. Most points after 10 events wins.
Top 3 get paid. And they win a lot of $$$$.
Also, any winner of an event gets paid for the following season.
If you have yet to make an account, here's the link: http://www.mmaplayground.com/register/
Once registered, get in touch with the Commish, and let him know you got some brass balls.
Joben is the chief here, so email him here: rwm145@gmail.com to arrange payment.
The Mania Freepool
The Freepool consists of the exact same concept as the Moneypool, except it's free, hence the name. Obviously. This is mainly a training ground for anyone who wishes to test the waters before the Moneypool and for those who just like to be competitive at no cost. And this season the Freepoolers have been ridiculously competitive.
So, if you want to just join in the fun, register here: http://www.mmaplayground.com/register/
Once registered, let the chief know you want an invite.
MegaMike is chief here. To join, send a message direct to him on Playground ( megamike1989 )
The MKL
The MKL (Mania Kountermove League), or the KML (Kountermove Mania League) is a league I created based on the site Kountermove. Register there to join or to just play free competitions.
This is an exclusive league and is only open to 20 players maximum. The majority of them spaces are already reserved, however, I expect a few spots to open up, and it's $10 per season. The season follows the same season as the Playground season.
Basically, it's a fantasy league where you are givin a $25,000 budget to pick 5 fighters per event. Points are awarded mostly for those fighters who win in the first round. Most points at the need win, as per usual.
However, in this league, I score things my way, based on how you placed on KM:
1st place: 25 points
2nd place: 20 points
3rd place: 16 points
4th place: 13 points
5th place: 10 points
6th place: 8 points
7th place: 6 points
8th place: 4 points
9th place: 2 points
10th place: 1 point
11th-20th: 0 points
Top 2 get paid. 75% and 25% respectively.
For any more info and to request an invite, please fell free to email me: maniacbons@gmail.com
Bracket Tourny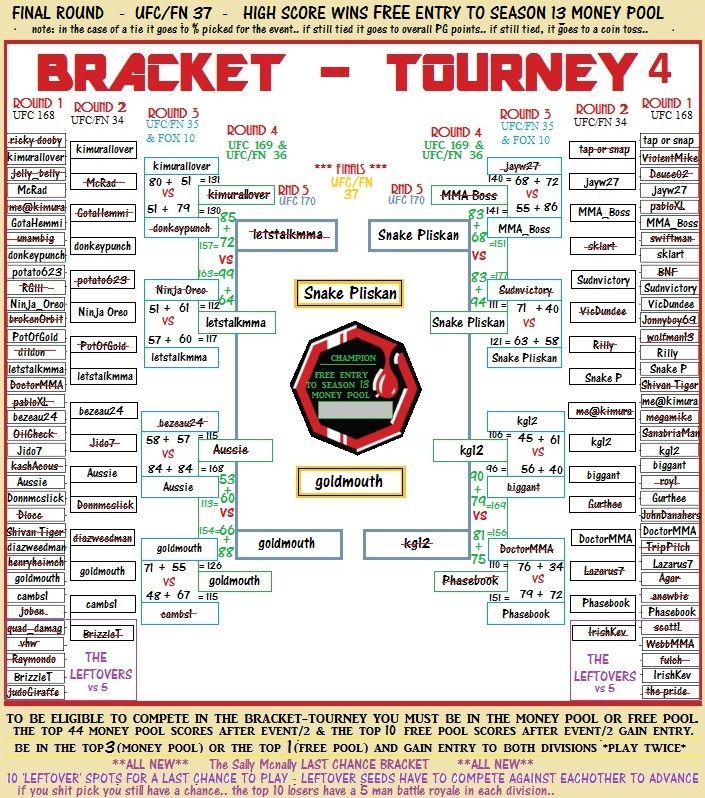 This is like a free Bonus round for all players of the Moneypool and the Freepool. But to be in it, you need to qualify. Winner of this monster tourny gets entry paid to the next season of the Moneypool on behalf of the Cheif, Ricky_Dooby.
That is of course if he runs another tourny. I hope to fuck he does, cos he's done an infinitely better job on it than I ever did.
All you need to do, is score as well as you can in the respective leagues (MP/FP) your are in.
That's your fuckin lot.
So any questions, requests or shit chat in general, the comment section is your playground.
If anyone want to join and/or leave any respective competition, please let us know ffs!!