Drukpa Kunley aka The Divine Madman is a 16th century Buddhist Monk who lived in what is now the country of Bhutan. Kunley spent his entire life, after becoming a monk in his late teens, traveling the countryside dispensing his wisdom and enlightenment to as many young ladies as he could get his hands on.
So where's the penis in all this, I hear you ask? Well, he promised each of them a path to Nirvana through the use of his fleshlight, or "Flaming Thunderbolt" as he liked to call it.
Kunley eventually earned so much notoriety n fame that women sought him out, or at least were very willing to give up the punani when he showed up. And in exchange for his spiritual 'illumination', all of the women were required to pay him in beer. IN MOTHERFUCKING BEER!!!
In between, and during, his 'deflowering' sessions, Kunley would give advice on spiritual peace, how to balance one's Karma, and how to attain Buddahood. Yes, Buddahood. Kunley preached that sexual ecstasy and drunkeness were the best ways to transcend the illusion of the material world and become one with oneself: "The best wine lies at the bottom of the pail/And happiness lies below the navel/A few inches below"
After chuffing nearly every wife, sister and daughter in the land, Kunley eventually chuffed his way into Buddhist mythology itself. He is said to do 'battle' with all sorts of demons and evil spirits, most of them female, of course. In one Bhutanese legend, he defeats a demoness by beating her in the face with his penis, and then gags her with it. Marinate in that for a moment.. And after she is defeated, he transforms her into a good spirit through "divine sexual play"
How big is it?
Well, as our Canadian cousins like to put it, 'it's not the size, it's how you use it.' Over 80 percent of Bhutan's 700,000 people are Buddhist, and nearly all of them use images of the 'Flaming Thunderbolt' as a good luck symbol. Images of it are everywhere (see Brock Lesnar) most notably painted on the outside of homes and buildings to ward off bad spirits and 'the evil eye.'
On your knees:
The best place to become one with your inner 'Flaming Thunderbolt' is at Kunley's Chimi Lhakhang monastery, about a three-hour drive from the capital of Thimphu. There, Monks use a large wooden penis, carved by Grand Master Kunley himself, to hit devotees over the head and bless them with it's healing powers.
This man, is my hero!!
And how this didn't become the dominant religion on Earth is impossible to understand.
Anyway, if you want a Limited Gold Edition Drukpa Kunley Truckers Cap (pictured below) you can order one through me for the special low price of $349.99. Proceeds will go towards my poker games n Money Pool memberships for the next decade.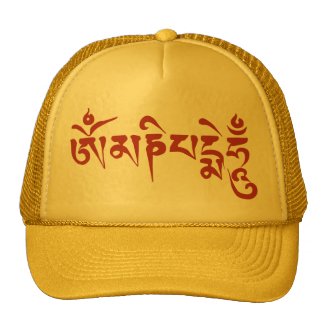 Happy Monday Maniacs :)
Disclaimer: I was bored waiting for my flight..