Maniacs,
The third person who decided to volunteer for my interview series is an amateur MMA fighter/lurker from the state of VT. Silver Fox is the proud father of a beautiful daughter and is quite humble despite being a true bad ass.

1) What is your favorite base martial art to watch? Why?

I love watching Muay Thai. The elegance of a fighter who can effectively use 8 points of their body to strike with is just something I have a hard time defining. Seeing a fighter throw combinations with punches, kicks, knees, and elbows just gets my heart pumping. Just the fact that someone who can effectively use Muay Thai in an MMA match makes me want to watch.

==========================================================================================
2) Who is your favorite fighter from that base MA? Please give an example of his/her greatest moment or a highlight you feel that captures the essence of said fighter.

I'm gonna have to go with Shogun here. I feel he's lost a step from his Pride days, but it's like his whole career is a highlight of his skills. Looking back to when he put a beating on Rampage, it was like a Muay Thai clinic as he advanced himself towards winning the 2005 Pride Grand Prix.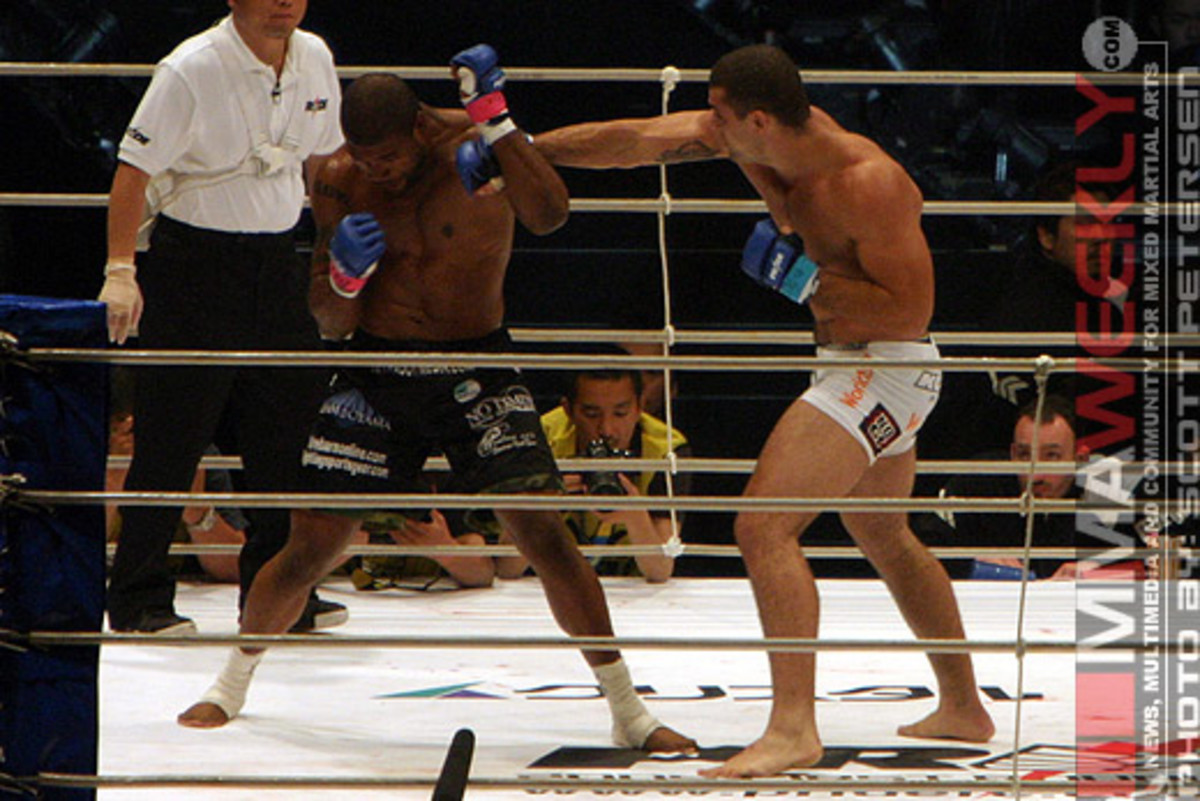 Another, more recent highlight of his Muay Thai skills was in his second go round with Machida. It was just beautiful to watch as he showed the world that Machida was beatable, and did it in extraordinary fashion by knocking him out in the first round.
==========================================================================================
3) Do you participate in any MA today? If not, which base MA would you pick? Why? What attracts you to it?

I don't do it anywhere near as often as I used to, or as often as I should, but I do still train in Muay Thai and BJJ. I also just started incorporating wrestling into my training and even though I'm completely lost when it comes to it, I enjoy it because I feel it helps give me a more complete attack.
I initially started training Muay Thai because I'm 6'1" and lanky, and I have a wingspan of 76". I figured with my reach it would be a good martial art to train. After I was into it for a while I was sparring as much as possible and started doing BJJ with the same group. Being a completely different ballgame, BJJ was a whole new challenge for me and I took to it quickly because I found another way to use my long limbs for attacking.
==========================================================================================


4) List your top 3 favorite MMA fighters of all time. Why? What do you feel is the most defining moment for each fighter. Give examples.

When trying to think of my favorite fighters, GSP always comes to mind first. I'll be honest, I do miss him finishing fights. But that doesn't mean I don't enjoy watching him fight his way to winning a decision. The man is a tactician and witnessing his top control and how well he utilizes it just amazes me.
His defining moment for me is in his rubber match with Matt Hughes. I could feel the excitement when you can see Matt Hughes yelling to the ref "Tap tap tap!"
My next would have to be Machida. I enjoy watching a technical counter striker and with how elusive he is, I really find him interesting to watch. I'd have to say his defining moment to me, was seeing him dismantle Thiago Silva. I was honestly stunned, and I'm fairly certain I'm not the only one.


Next up is Urijah Faber. He's got a swagger that just makes me like him. He's well rounded and exciting, and he takes risks. He's always willing and ready to fight, and he is always on the attack. I've gotta say that the defining moment for me was when he choked out Jeff Curran to retain the WEC featherweight strap. I thought Curran had a good chance in that fight because he had a ton of experience, but Faber just outclassed him.
==========================================================================================
5) List your top 3 MMA fighters on your shit list. Why? What do you feel is the most defining moment for each fighter that made you feel this way. Give examples.

To be honest my MMA shit list can start and end with Josh Koscheck. He just rubs me the wrong way and I can't stand him. I mean, I understand there's a reason he's in the UFC, but I just don't think he's much of a fighter. His tactics are to talk shit and get inside his opponent's head to try to bait them into a brawl. And he's a punk, I read him like a book. I'm guessing he was popular in high school and then realized once he got out into the real world that he wasn't shit, so he started making noise to draw some attention. Well it worked, and I think he's a dick. The thing that comes to mind that really makes me think he should have chosen soccer as a sport, is when Anthony Johnson attempted to knee him while he was down, and he acted like he got smashed with a baseball bat. Sorry dude, there are enough cameras to show that yes, it was an illegal knee, but he barely hit your arm and you screamed like a bitch that he got your eye. Come on now.
-------------------------------------------------------------------------------------------------------------------------------------------------------------
Another fighter that I can put down here is Leonard Garcia. Now don't take me wrong, I don't mind watching him fight. He is a brawler and he's always moving forward. But you need to step your game up man, you haven't evolved since you lost to Huerta. The only reason you're winning fights is because they're awarding you points based on you flailing around like a rag doll while moving forward. I could have smashed my TV when they awarded you the win against Nam Phan the first time around, and I'm glad they got it correct the second time around. You train with Jackson's, you've got no excuse for not evolving.
Leonard Garcia
@badboygarcia Got let go by @ufc thanks for everything! Ill be back better then ever!
------------------------------------------------------------------------------------------------------------------------------
I've also gotta put Karo Parisyan on this list. What makes me dislike him is how he acted towards the contestants on season 5 of TUF, especially Nate Diaz. He was a complete asshole and it was absolutely unwarranted. I understand that it's an emotional sport and that flows into training and the locker rooms, but threatening someone like that is a total dick move. Especially when you're mediocre at best, and you've got more than enough personal issues to be the one to throw any stones.
==========================================================================================
6) As an amateur fighter, what are your thoughts on the Fallon Fox situation?
As a fighter I have no problem with fighting whoever signs to enter the cage opposite me as long as their medicals are up to snuff and they made weight. Having been in a coaching role before though, I feel that is where it gets tricky. If the fighter stepping up knows they are being offered a transgender fighter and they accept it then that's fine. If they don't find out until after signing then I see it becoming an issue. As far as I'm concerned, if a promotion is willing to put on the fight and the fighters both sign to fight, there's no issue to be had.
==========================================================================================
7) Also, a player for the NBA just recently came out and announced his gay lifestyle. Your thoughts on sharing a locker room with gay fighters?

It honestly doesn't bother me. I zone out in the locker room, don't really notice anything around me until after showtime. I'm there, I'm focused, if there are gay fighters in there it doesn't make any difference to me. Everyone is watching everyone else anyway, I don't think it should be an issue to anyone what someone's orientation is. Everyone in the locker room is there to fight, or to help a fighter. They're not looking for someone to take home.
==========================================================================================
8) Is MMA legislated in VT? If so, can you describe the orgs and how they work?
I know that it's in the process of becoming fully sanctioned, but I don't think it has gone all the way yet. I've only ever worked with two promotions up here and some of the people are tied together so they were similar. We follow unified rules, just no elbows for amateurs. Yearly blood screening (full Hep panel, HIV/AIDS), and yearly physical.
==========================================================================================
9) When is your next fight? Any background on your opponent? What will you be specifically working on to secure a victory? Feel free to advertise your camp in your answers.
My next fight will be June 22, in Barre, VT. I'm tentatively scheduled to face Randy Lamb, whom I don't know much about. He's 0-1 and he lost by submission in his fight. Watching how his fight played out I feel like he's a wrestler. I'm actually wrapping hands at an event tonight(5-11) and he'll be fighting. I plan on paying attention to that and seeing if I need to change my game plan from out boxing him and staying off of my back.
What I'm really working on this time around is going in the cage and fighting my fight. My last fight I expected to fight against a game plan, and I feel like when he wasn't what we were expecting it took me too long to adjust and that's what lost me the fight. I want to go in the cage and keep my own pace, keep the fight where I want it, and look for the finish. I'm gonna go in there, have fun, and show what I can do.

As far as team goes, I'm technically an independent fighter. I train with a few guys who are affiliated with Team Link, but I'm not affiliated myself. I split my time between two gyms currently. There is NEK Fitness, where I do strength and conditioning, and we're also working on getting a grappling program going. I also train at The Club at Old Mill with the Link affiliated guys and a few others. Generally there are about 12 of us in there, most are active fighters or will soon be making their debuts.
-------------------------------------------------------------------------------------------------------------------------------------------------------------
*** FanPost title by Silver Fox listed below. Do a search on Mania and enjoy the benefit of his experience***
Video: Luke Bergeron stops Matt Laberge at XCP 'Barre Beatdown 2' in Vermont
By Silver-Fox on Sep 17 2012, 6:27a