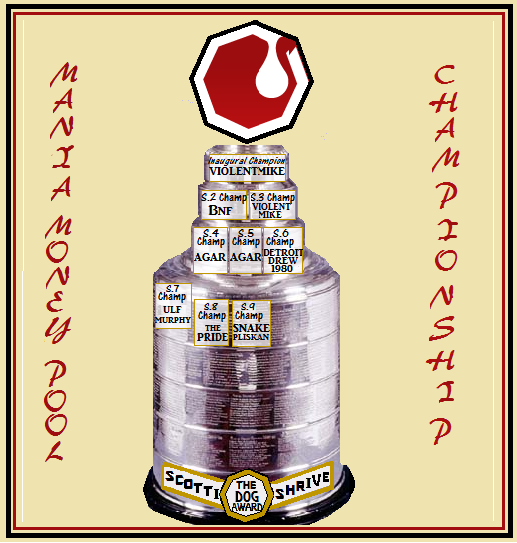 photo credit: ricky dooby/stinky fingers
BE and MMAFighting tried but at the end of the 10 event-season, a MANIAC stood proud and took home the crown.
There can only be one. And then there was ONE. SNAKE PLISKAN, a rookie to the pool, came, saw, conquered and etched his name in the prestigious Mania Money Pool Championship. He now owns the "much revered and much respected" Scottidog Shrive Award. Congratulations Snake. The challenge is yours next season to defend your crown, something that the three previous champions have not done.
At the end of the season, these are your winners folks. Heed respect to the Snake, the BE -er and the Dark Sider.
And these are your event winners who you will see in the next season as they are guaranteed immediate entry to the pool. Take note that NO ONE won an event twice. Goes to show you how competitive this pool has become.
Event Winners:
Event 1: bigGcastle - 65 points
Event 2: Snake_Pliskan - 74 points
Event 3: scarnon - 69 points
Event 4: the pride - 94 points
Event 5: bitemyjacket - 86 points
Event 6: ricky dooby - 89 points
Event 7: freenow82 - 96 points
Event 8: Oilcheck - 98 points
Event 9: swiftman - 79 points
Event 10: Sanabriaman - 92 points
As for me (yeah, I know you don't give a f**k but this is my post) I take solace in the fact that I outscored five (5) former Money Pool Champions and I have placed in the top 10 again ever since my abysmal and horrible first season where I placed 22nd. I also have beaten kg12, something that I haven't done last season. I still haven't won money though. Season 10, my brother scarnon pays for me. Season 10 is redemption season.
Let's roll to the results of one of the best, if not the best, free card the UFC has done so far. Only 4 decisions out of 12 fights and lots of finishes and unexpected results. What the fuck can you ask for in a free card? I will be surprised if this card does not get an A+ from unambig.
via mmavalor.com
UFC ON FOX 7 QUICK RESULTS:
UFC Lightweight Champion Ben Henderson vs. Gilbert Melendez -- Henderson wins via split decision (48-47 x2, 47-48)
Frank Mir vs. Daniel Cormier -- Cormier wins via unanimous decision (30-27 x3)
Nate Diaz vs. Josh Thomson -- Thomson wins via TKO (head kick & punches) at 3:44 of round two
Matt Brown vs. Jordan Mein -- Brown wins via TKO at 1:00 of round two
Darren Elkins vs. Chad Mendes -- Mendes wins via TKO (overhand right) at 1:08 of round one
Francis Carmont vs. Lorenz Larkin -- Carmont wins via unanimous decision (29-28 x3)
Myles Jury vs. Ramsey Nijem -- Jury wins via knockout (overhand right) at 1:02 of round two
Joseph Benavidez vs. Darren Uyenoyama -- Benavidez wins via TKO (liver strikes) at 4:50 of round two
Jorge Masvidal vs. Tim Means -- Masvidal wins via unanimous decision (29-28 x3)
T.J. Dillashaw vs. Hugo Viana -- Dillashaw wins via TKO (punches) at 4:22 of round one
Roger Bowling vs. Anthony Njokuani -- Njokuani wins via knockout (left hook) at 2:52 of round two
Clifford Starks vs. Yoel Romero -- Romero wins via knockout (flying knee) at 1:32 of round one
MANIA1 CAMP:
DANAGO, RGIII, SCARNON, BIGGCASTLE, DLOCC and LETSTALKMMA formed the 12% that picked El Nino to overcome the smooth game of Benson Henderson. Call it controversial but the 44 people that picked Bendo will be more than happy to take their points.
REDMAN, DANAGO, OHMAMADOES, JOBEN, DILDON, MIXEDMARTIALFARTS, VICDUNDEE and YAN117 thought that the jiu-jiutsu of Francisco Murr will save him from the wrestling of the Black Fedor. Turned out Mir has no other game plans than to lose the fight.
Only 19 people (38%) picked Josh to win over Nate. No one received perfect points on this one as everyone never expected Nate to be TKOed like that.
30 people (60%) picked Yoel to run through Starks- who was picked by 20 people. A flying knee later and we have ourselves a name in the 185 pound-division.
33 people (66%) picked Myles Jury in the battle of TUF alumni. Despite Pride's logical explanation of how he's picking Nijem, Jury proved otherwise - that Nijem has to work on that chin of his.
In the closest picking that divided the camp, 27 people (54%) picked Masvidal to win over Means. Another controversial fight.
OHMAMADOES, BIGGANT, SARAH, DEUCE02, DILDON, WYLDEMAN99, NINJA OREO DOLLOP, GOLDMOUTH and JELLY BELLY picked Roger Bowling to win against Njo. Roger could have won this fight had he realized that he is not even half the striker that Njo is.
In the Hot Bout of the evening, 28 people (56%) picked Carmont to win. Larkin, had he been more aggressive, could have given Hot Bout points to the 22 people (44%) that picked him.
Everyone picked Benavidez. Enough said.
BIGGCASTLE went against 49 people in picking Elkins. Back to the drawing board buddy.
DANAGO, OHMAMADOES, BIGGANT, SHIVAN_TIGER, BITEMYJACKET, DILDON, NINJA OROE DOLLOP, DLOCC, RILLY, VICDUNDEE, and YAN117 took the "Immortal" route (no, not that shitty movie that featured James Caviezel) and Brown destroyed Mein in the second round, much to the chagrin of the 39 people (78%) that picked the Canadian slugger.
UNAMBIG, PABLOXL, PHINSALLDAY, and LETSTALKMMA went against Dillashaw and they paid dearly for it.
THE WINNERS:
1ST PLACE: SANABRIAMAN
via distilleryimage0.s3.amazonaws.com
Scored an event high 92 POINTS.
Went 11/12 correct picks
Perfect points for Yoel, Masvidal, Carmont and Mendes
Guaranteed to be in the next season
Finished in the top 10
Good job AJ. Looking forward for you to continue the momentum next season
2ND PLACE: JONNYBOY6969
via www.tapology.com
Scored 81 points going 10/12 correct picks.
Perfect scores for Yoel, Njokuani, and Carmont.
First time to hit the top three for this season
Looking to carry the momentum towards next season
3RD PLACE: KIMURALLOVERYOURFACE
via www.wwe.com
Scored 80 points, going 9/12 correct picks.
finished in the top 15 overall for the camp
should be a formidable opponet next season
THE SCORES:
THE FINAL SCORES:
THE WINNER: $550 - SNAKE_PLISKAN - 684 POINTS (#1 in PG as well!)
SECOND PLACER: $220 - SWIFTMAN - 645 POINTS
via www.waleg.com
THIRD PLACE: $80 - JIDO7 - 630 POINTS
via a3.ec-images.myspacecdn.com
THE FINAL SCORES:
Next season of the Money Pool starts APRIL 27, 2013. Just hit these fan posts to know more about how you can join.
http://www.mmamania.com/2013/4/18/4237994/mania-money-pool-season-10-invitation-dont-be-left-out-and-be-called
http://www.mmamania.com/2013/4/12/4218790/mania-money-pool-reminder-and-recruitment-season-10
Discuss.