Merry Christmas and welcome to TrashTalkTwitterTuesdays.
The MMAMania.com comment section is like a soapopera. An online "Days of our lives" with neverending drama, trolling, feuds, beefs and sex. Lot's of sex.
But it doesn't stop there. No. Maniacs have been representing quite handsomely in the land of 140 characters also known as twitter.
This segment brought to you by God's gift to women also known as: Gogo. (Pro Mania-tang record: 2-0, undefeated and undisputed, baby) is here to highlight all the festivities that you may have missed in case you don't have a twitter account.
Check it out:
I like to pretend I'm gay, but when a man I don't know calls me handsome, I get angry and violent.

— Plainview (@PlainviewJones) December 7, 2013
Ok, first of all: #freeplainview. PV has learned his lesson and wants to come back home.
Can I come home yet? @mmamania @TommyMyers @Jesse_Holland @MattRoth512

— Plainview (@PlainviewJones) December 2, 2013
A lot of people had beef with Plainview on mania and he wasn't always the easiest person to deal with. But in recent times of austerity (read: getting banned by a certain moderator for calling someone a dickwad fuckhole) he transformed himself into quite the comedian on twitter.
Check out his epic trashing of Cody Bollinger. (Remember this guy, lol):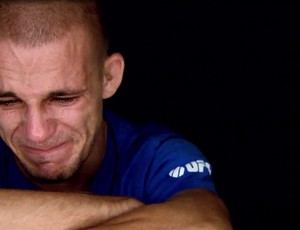 @CodyBollinger You're dumb, and I'd pick you apart for 15 minutes. You'd catch me fucking the game in your bed. I'll make you an mma-cuckold

— Plainview (@PlainviewJones) November 20, 2013
@CodyBollinger Still ducking me like you ducked the sauna. I'm coming for you. In the cage, locker room, or in a Denny's, I'm gonna get you

— Plainview (@PlainviewJones) November 21, 2013
Even kickboxing legend and WSOF CEO Ray Sefo himself considered PV a prime candidate for weight-cutting virtuoso and TUF 18 contestant/castaway Cody Bollinger:
@PlainviewJones @CodyBollinger Cody has an opponent!!!

— Ray Sefo (@SugarRaySefo) November 21, 2013
Relentless: adjective: that does not relent; unyieldingly severe, strict, or harsh; unrelenting: a relentless enemy. Plainview.
@CodyBollinger You'll think I'm wolverine when I break your fists with my adamantium face.

— Plainview (@PlainviewJones) December 4, 2013
@CodyBollinger You're lucky. You step in the cage with me and you might as well be fighting Mike Tyson.

— Plainview (@PlainviewJones) December 3, 2013
*might as well be fighting Mike Tyson
Be proud that you ducked me once again @CodyBollinger . In the words of Mr. Potatohead @wandfc, "Your time will come"

— Plainview (@PlainviewJones) November 22, 2013
@IamTheImmortal Start an @mmamania account. I will show you the ropes, and then I'll show you me beating @CodyBollinger to a pulp.

— Plainview (@PlainviewJones) November 22, 2013
@SugarRaySefo I'll beat @CodyBollinger like my name is "Weight Cut"

— Plainview (@PlainviewJones) November 20, 2013
Nice.
Follow Plainview on twitter, his entire timeline is pretty hilarious and i'll be handpicking my favorites of his and highlight them in the next couple of installments of TTTT.
Also, follow Cody Bollinger. He's actually a pretty cool guy and he responds to your tweets.
Drinking your own urine really does help I've never felt so great after a practice

— Cody Bollinger (@CodyBollinger) November 19, 2013
Speaking of weightcutting magicians, this guy can go fuck his own asshole:
@Sharkbait816 Stop fighting, choose a new career and start over again. You're done in MMA, fatty fatty fat fat! #makeweightbitch

— Lady Gogo (@heyholetsgogopl) November 22, 2013
Follow Anthony Gutierrez and tell him to go fuck his own asshole. Say Lady Gogo sent you. ;-)
Oilcheck has his excellent and very popular Homoshop segment on mania. Jonnyboy6969 has been #gloryholing almost just as long on twitter. Here's a sample of his prodigeous #gloryhole skills:
@DiegoSanchezUFC Very nice Diego. Excellent job. pic.twitter.com/Ar2EaVZ8Z5

— Jonnyboy (@Jonnyboy_6969) December 18, 2013
@AkiraCorassani Looking good girl. pic.twitter.com/3mEIwfpWSd

— Jonnyboy (@Jonnyboy_6969) November 28, 2013
@rory_macdonald Bonjour pic.twitter.com/QVcfG0LoVY

— Jonnyboy (@Jonnyboy_6969) December 12, 2013
Our esteemed and endeared Hungarian MMA demi-goddess (yes, demi-goddess, sarah is the real Alpha and Omega) does not approve:
@Jonnyboy_6969 @DiegoSanchezUFC nah you still need some exercise. Dont ever force it

— Kara Mazov (@szanpan) December 18, 2013
SMH
It's a bird!
It's a plane!
It's Sean Penn in I am Sam during that scene where he runs through the hallway and slips over a couple of steps falling on his ass. (skip to the 2.08 mark, lol. Horrible, HORRIBLE film though)
I am Sam trailer (via GabyWittens)
No!
It's DrunkJoben going full beast mode on twitter because fuck you. Yeah, the only reason some of us need to completely fly of the motherfucking handle and rip new assholes all across the internet... is "fuck you". Deal with it, cunts! (tweets censored for Braiterman-ey reasons)
Awwww, and they kiss and make up in the end. You see, that's what I like to see. Two grown ass men completely evicerating and disemboweling each other through the internet and afterwards they shake hands maybe a little reach around... what's that? Kinda gay? Whoops, just trying lend a helping hand, ok, nevermind, I was just kidding, queer. Lol everyone is queer butt me.
Follow drunkjoben. Just like Plainview, his entire timeline is a laughriot.
Alright, fruitcakes. There's a lot of wars being fought out on Twitter. Where's the love?
Here's an update on my sex-life.
Just completed a bangfest with my girl. I won via 1st pound Wrecknical Cockout. I'm now the number one cuntender.

— Lady Gogo (@heyholetsgogopl) December 13, 2013
Is this guy living the life or what? Hi 5, Gogo. You da man!
Here's an update on Oilcheck's love life:
@IKEVF I love @peggymorganmma

— OilCheck (@Oil_Check) December 16, 2013
The moonlanding was fake, there is no santa-Claus and Oily actually likes women. Sorry, everybody. #debunked
UFC lightweight badass and resident Maniac Isaac Vallie-Flagg goes full Cody Mckenzie:
@IKEVF trying to pull @thecodymckenzie pic.twitter.com/cUCyeMd0uZ

— Mike Valle (@Valle_Flow) December 19, 2013
(backstory: Cody McKenzie forgot his sanctioned fightshorts at his hotel and had to get an emergency Nike basketball shorts. He entered the octagon (in a losing effort against Sam Stout) with the pricetag still on and Herb Dean had to yank it off. Dana White was embarrassed... and pissed)
How is it possible that a complete fuckstick like Gutierrez has more followers than a legit tank on two legs better known as Isaac motherfucking Vallie-Flagg? Follow his sexy ass before I fly across the ocean and rip your head off and shit down your neck. Thank you...
Alright, you handsome studs. This was the inaugural quadruple T: TrashTalkTwitterTuesdays.
And remember, 4 eyes are better than 2. And a 100 eyes are better than 4, meaning... if you see a tweet that was funny, moving, revolting, tittilating (titty + ejaculating, seriously look it up) post it in the comment section below. Twitter is gigantic and I could use all the help I can get to make sure everybody that's worthy of props, get their props.
Also, if you're not on twitter yet, make a account and post your handle in the comments below. Maniacs have been dominating the twittersphere via "Irreversible"-esque" 10-7 rounds for the last couple of months. The more the merrier, baby. ;-)
If you are already on twitter, we probably already follow each other. If not, post your handle below in the comment section. Some twitter users don't use their mania screenname on there and I (and other maniacs) have no clue who you are on twitter.
Ok, I hope you enjoyed this shit and stay tuned for the next episode of TrashTalkTwitterTuesdays.
I love all of you. Xoxo
Especially you, uknown.
"anytime i are anyone else is stepping on you too hard he is so loyal running to save is mandamsel in distress" #uknown

— Lady Gogo (@heyholetsgogopl) December 18, 2013
(backstory: check out this thread: http://www.mmamania.com/2013/12/18/5221314/ufc-ronda-rousey-georges-st-pierre-doesnt-have-to-risk-life-for-anyone-mma#204841079 )