Well ima start off by saying and no disrespect to anyone who lives there but fuck that place I know why the call it dirty jersey now and as for NYC I expected more but had fun. I highly recommend the lion king for any and everyone of all ages. Only way id go back is for the lion king and if the MSG card was awesome. But back to what were here for my fan post. Well we (me and my brother) arrived on wens and just went out to the city when we got there nothing big.
Thursday we arrived at the press conference a little late but had bad ass seats. During the conference I asked Dana when he would be coming back to tx he responded with he's looking at January 2013 for a stadium show. Also asked if we would get a UFC monster truck he just said he didn't know how to answer that and said rampage has a monster truck, clearly he didn't know what I was talking about. But afterwords we got pictures with Barry, hendricks, and belcher with autographs from them and Paul Harris.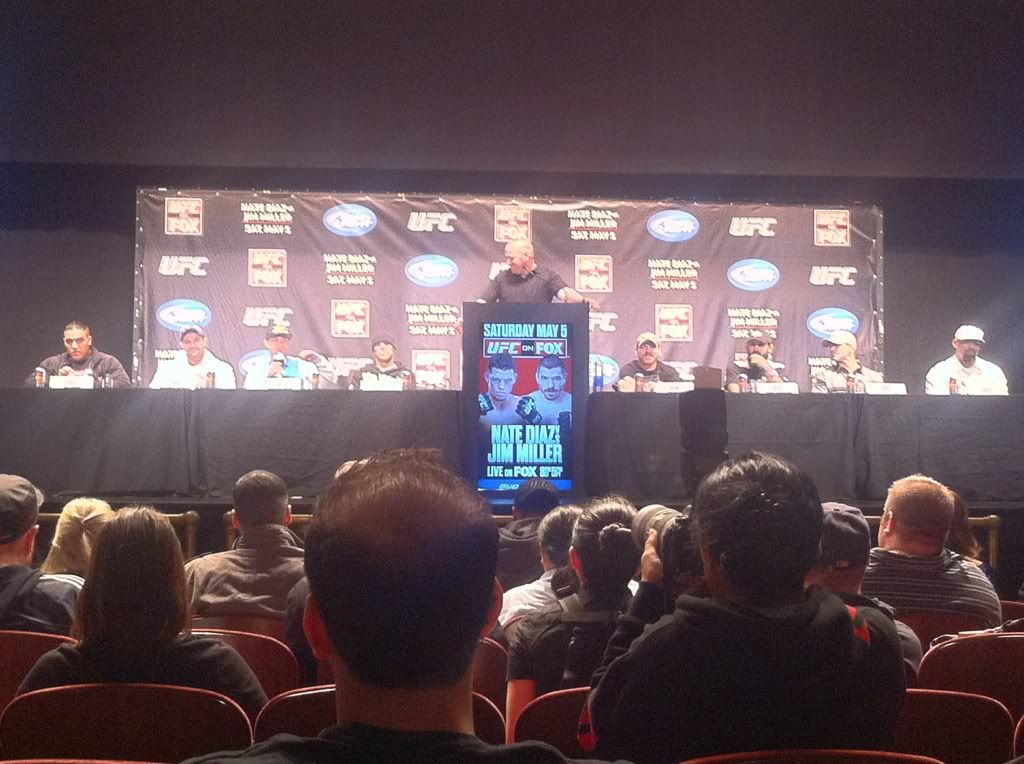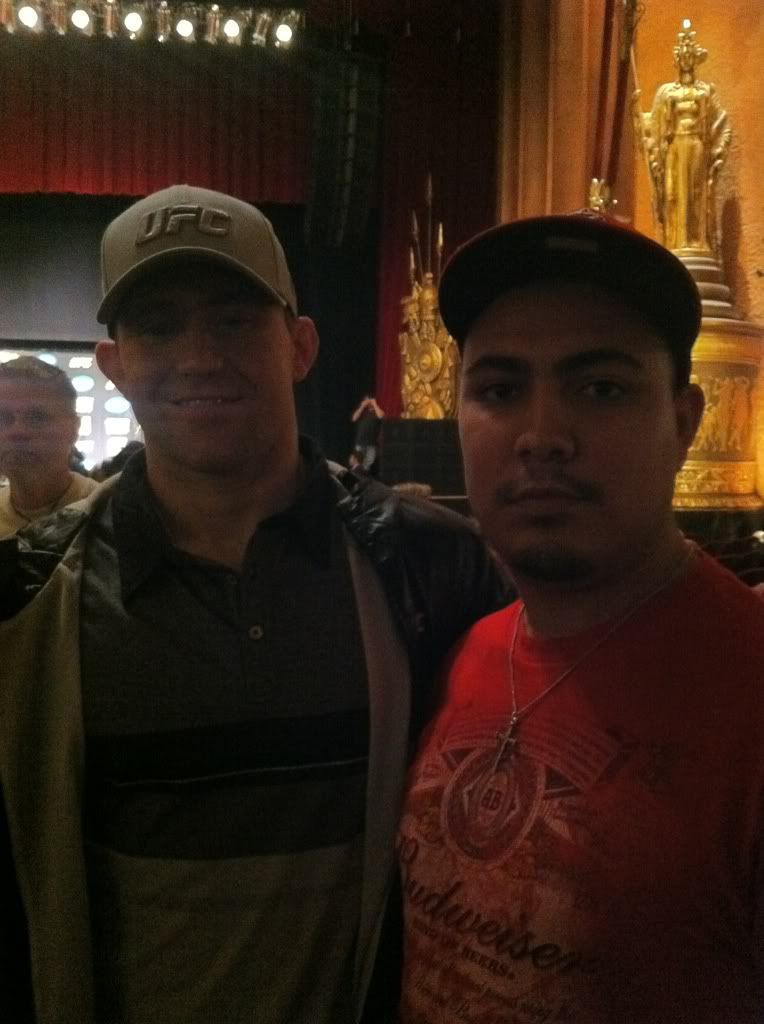 My dumb ass brother didn't put the flash on.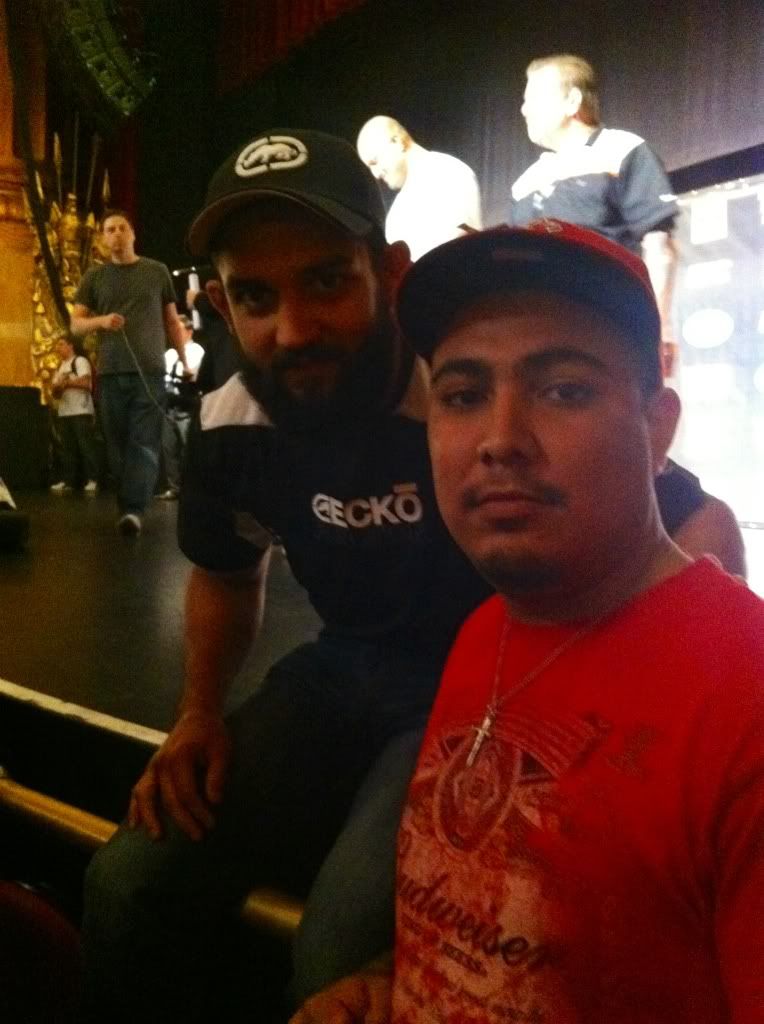 No flash again.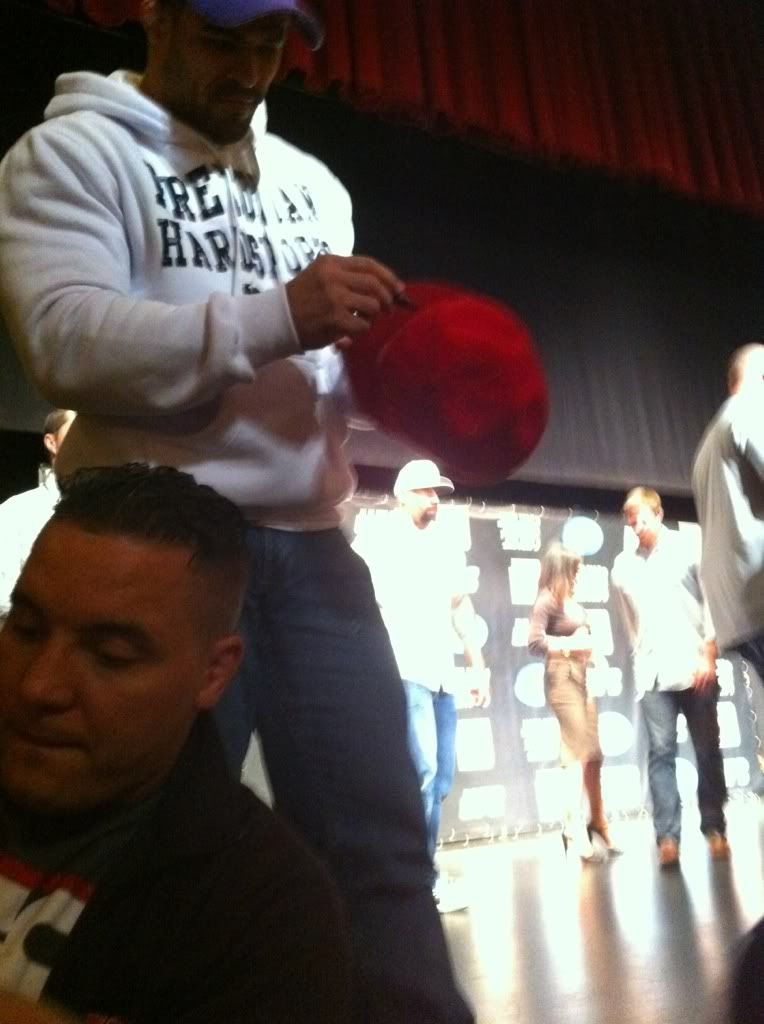 Paul Harris didn't break my hat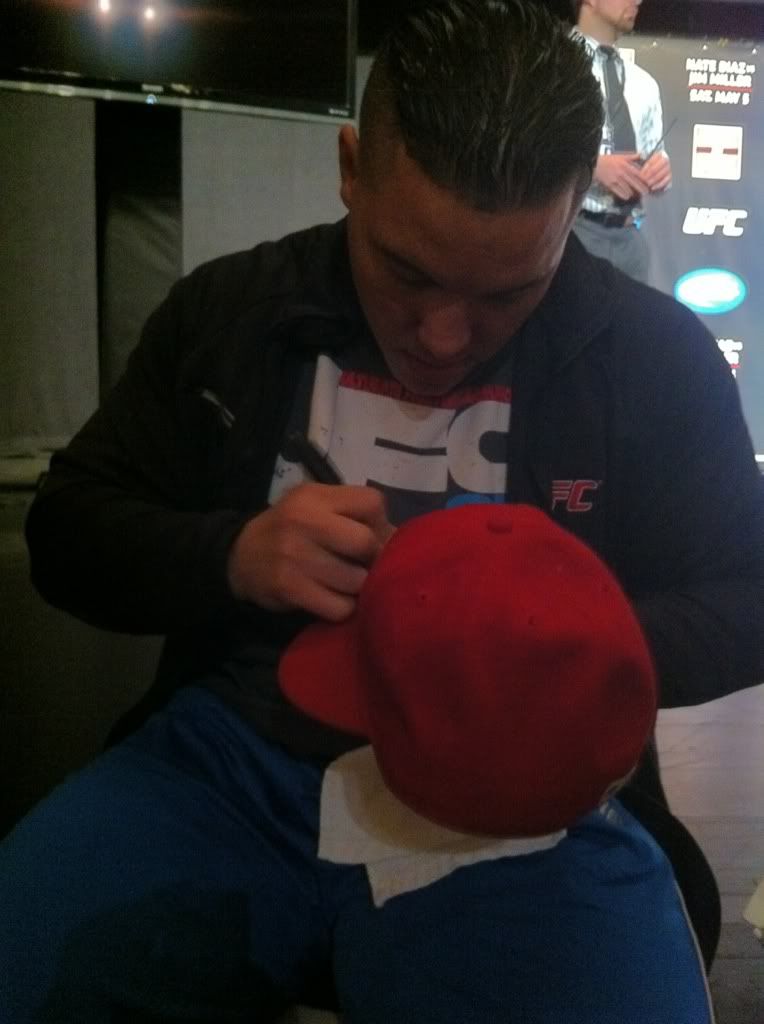 No hat in pictures makes my face look fat dammit.
Friday we wanted to attend the weigh ins but we got stuck in traffic trying to come back from six flags and if anyone happens to go there ride kingda ka it's the shit (0-128mph in 3secs 45 stories straight up and down in all in 28secs yup that'll make your butt hole pucker up.)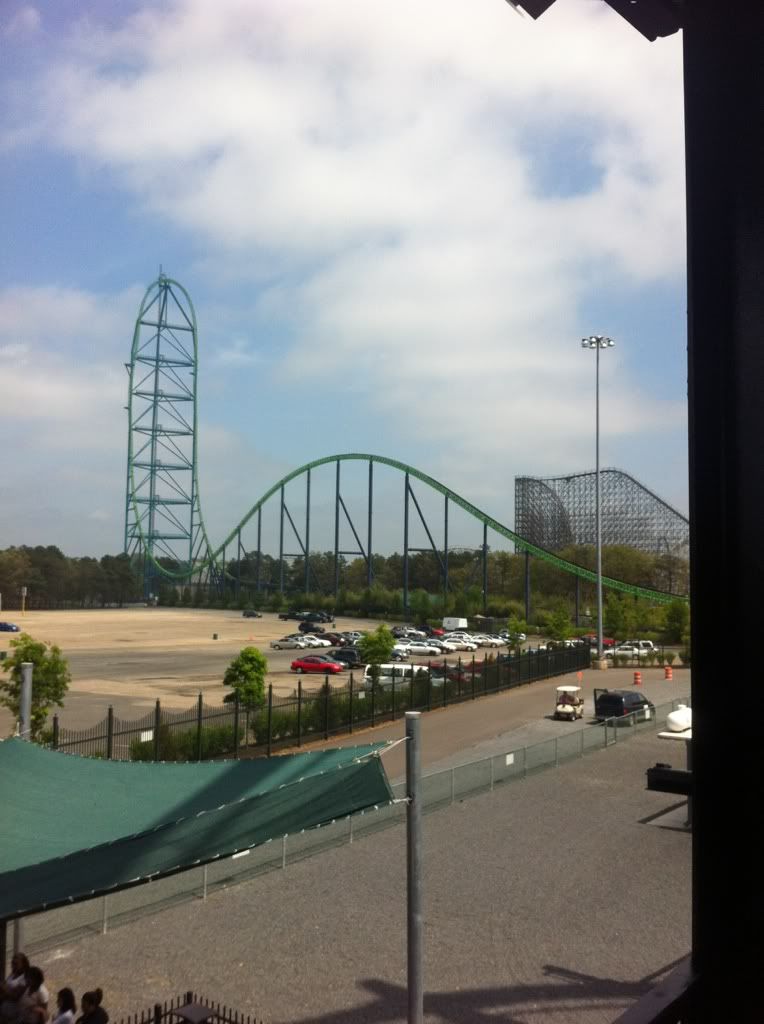 Friday night we went back to time square about 12 am and out of no where we ran into Diaz he was cool as hell took about 10 mins of his time and talked he even remember me from the press conference.
Sat we went to statue of liberty and ground zero before washing up and heading over to the izod center. Just my luck my camera died and my phone ran low on battery but managed to catch a few photos and videos. While there we meet dana, Frankie, pettis, guida, bones, Rhonda, lavar, boetsch, breenemen, bisping, weidmen, almaida, alverez, Diaz brothers, Dan miller, Dan took few minutes of his time while walking back to the locker room to give me a hug and thank me for donating for his son the guys sitting in front of us where jim and dans training partners. After the fight we caught the 1st bus to NYC and watched the mayweather cotto fight in a bad ass hole in the wall Mexican bar. Don't remember where it was at or how to get there but the women and food were awesome.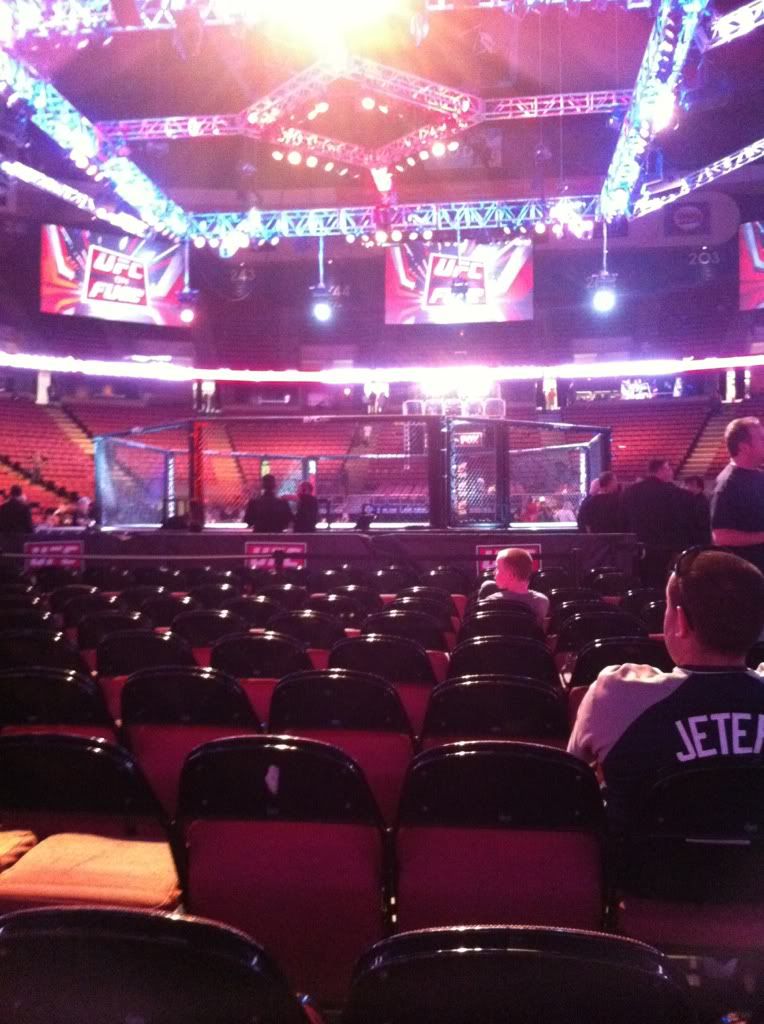 Just when we thought our ufc experience was over we left to the airport at 6am only to have Fitch riding next to us to Houston. He said his 730 flight got canceled and our flight was the next available one so he flew to Houston then transferred to phenix where he would catch his last flight to San Jose. Over all this was a awesome mini vacation I had and even tho I was away for only 5 days I'm glad to be back at the ranch where it's quiet and I get to spend time with my daughter.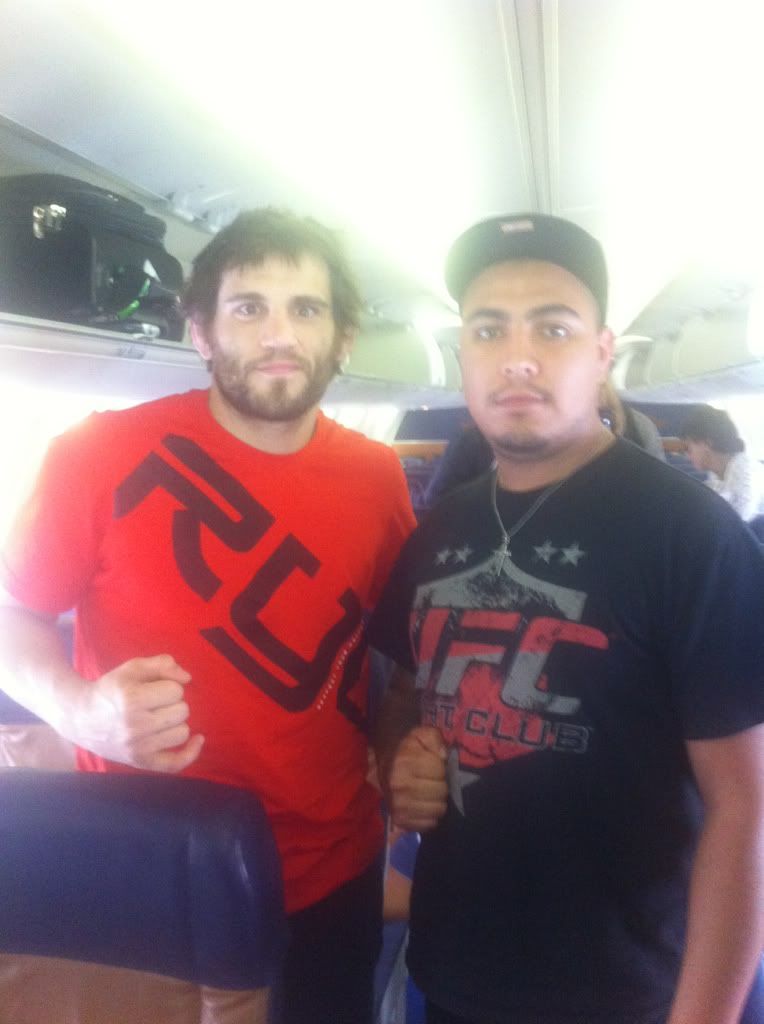 I txt this photo to fellow manic Onemansyn. He told me if I was cold on the flight I should told Fitch to lay on me ha ha ha.