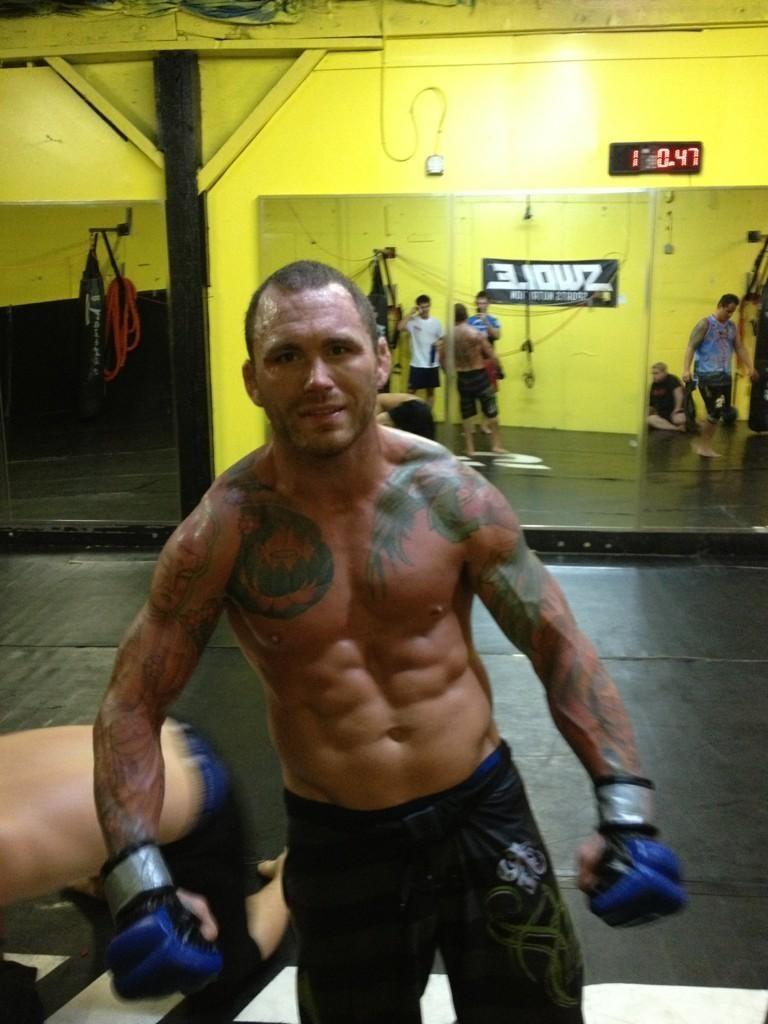 --Picture above from twitter @cripplerufc | Chris Leben looking ripped and ready to go.
Chris Leben has been on a bumpy road throughout his Ultimate Fighting Championship (UFC) career. After failing to win The Ultimate Fighter (TUF) 1 show. He began his UFC journey with five straight victories. Leben was looking to be the next in line for a fight with the champ of the middleweight division, at the time, Rich Franklin.
Then along came "The Spider."
When put against the striking whiz Anderson Silva -- Leben was stopped just forty nine seconds into the fight. Halting his hopes and championship dreams.
Chris returned to starch Jorge Santiago. He looked good early on against Canadian, Jason MacDonald. Before getting his neck twisted in a guillotine choke putting him sound asleep. He would then lose a hard fought three round Unanimous Decision to TUF Season 3 contestant Kalib Starnes. No shame in that, at all.
Leben seemed to have had a revelation. Racking up a memorable come from behind win over the tough Terry Martin and stopping Alessio Sakara -- both by knockout -- but after losing a one-sided fight against top contender Michael Bisping -- "The Crippler" tested positive for Stanozolol and was suspended for nine months.
For his long awaited return -- Chris was paired with the strong wrestler Jake Rosholt and got choked out -- in his hometown of Portland, Oregon.
Leben bounced back right away with a three round unanimous decision win over Jay Silva. He would then defeat Aaron Simpson. Two weeks later. When Wanderlei Silva pulled out of his fight with Yoshihiro Akiyama, Chris stepped up and became the first UFC fighter to win two fights in two weeks -- Finishes!
His next fight was at UFC 125 -- he was stopped by the hard hitting Brian Stann then rebounded at UFC 132 with a thirty two second knockout win over Wanderlei Silva.

Beat a legend, to become a legend.

However his following fight with Mark Munoz would be the first five round, non-title main event fight in UFC History. Chris showed effort in round one but eventually gave up and lost the fight at the five minute mark in the second round via TKO doctor stoppage.
Testing positive, once again, this time for oxycodone and oxymorphone. Chris Leben has been out for a year.

His comeback was supposed to be Karlos Vemola. Until an injury brought a late change in opponent. Derek Brunson stepped up immediately and filled in for Vemola.
Can "The Crippler" catch Brunson and send him back to Strikeforce?
Or will Brunson break the brawler and cement himself his own spot in the UFC?
It's happening on Dec. 29, 2012 at the MGM Grand Garden arena in Las Vegas, Nevada
To catch the latest on UFC 155: "Dos Santos vs. Velasquez II" click here