I was thinking, that if the QOTW gets stale or boring for you… you should totally do a weekly post on the "Douchiest BE Post of the Week" with a poll and such
by Dakatak on Aug 16, 2011 11:47 AM 
Who am I to refuse such a request?  
I live to serve my fellow Maniacs (no homo).  
There are so many gems to pluck out from the House of Dorks over at BE... but I did manage to narrow it down to a select few:
Entry #1 -  Nerd Alert
Tis Excellent Sir!
Also, a little off topic, but by Plantinga fan do you mean Alvin Plantinga?
by Robert Cowan on Aug 16, 2011 6:39 AM 
You're the first person to have gotten that right!
Along with Kant studies, philosophy of religion is one of my specialities. If you work in that field, you can't help but run into Big Al and be impressed.
by PlantingaFan on Aug 16, 2011 7:31 AM 
People didn't get that that was a philosophy reference before?
Seriously, do any other Platingas exist?
by Hummus5989 on Aug 16, 2011 2:51 PM 
Everyone always read it as planting a fan.
But yes, many other Plantingas exist, e.g., Cornelius Plantinga.
by PlantingaFan on Aug 16, 2011 2:55 PM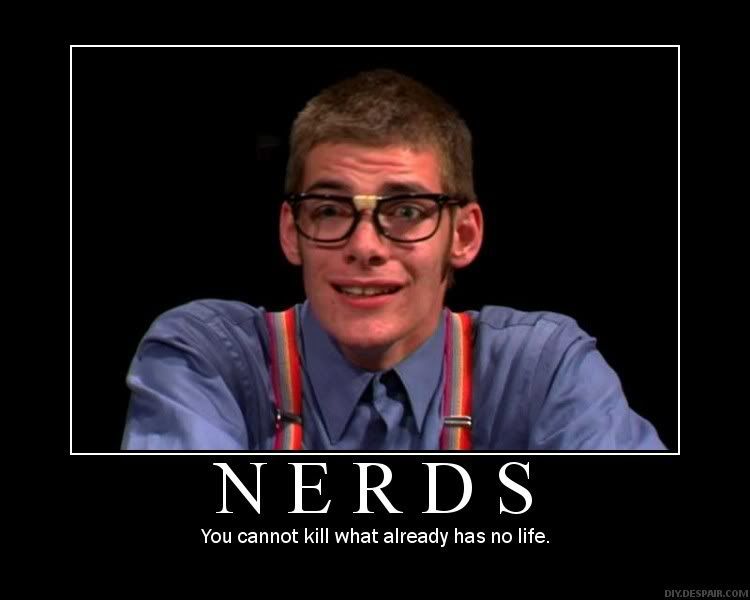 MANIA'S RESPONSE :
I dunno. A philosophy degree would allow a person to explore his existential ennui while preparing my extra foamy decaf latte.
by P-Dub on Aug 16, 2011 10:47 AM 
 =========================================================================================
Entry #2 - The Art of the Cyber Deep Throat
Dear BE staff...
I know we can get demanding, rude and over zealous sometimes but, thanks for putting up with our shit. The best thing about Bloody Elbow is how interactive the staff is with the fans, I cant really think of another site where writers take the time to debate with and teach the people who read their articles. The downside of that is sometimes we all start to think we're part of the staff, we forget that we're just fans and some of us just dont really know how much work you guys put into the upkeep of this site. We forget that for every 300 comment-worthy article, someone not only took time to research and write it, but took more time to moderate each and every comment that we put up. Honestly, Im just some dude with a blog that like 15 people read. There are days when I have no clue what to write, Im kind of amazed that the staff here has managed to keep things this interesting for so long. 
I spent a year just reading this site everyday, too scared to comment on any articles or put up any fanposts. I let the Sherdog forum and the UG jade my view of MMA experts, I started to think they where all pompous and arrogant jerk offs. But the staff here at BE has been unbelievably inviting and informative. Some of the staff here even encourages me to write on my blog, if I dont put anything up in more than a few days I have Kid Nate telling me to "get back on the horse". As a fan of MMA and Bloody Elbow I cannot describe to you how awesome it is for someone you look up to to encourage you to do something you love.  So again, thanks BE staff for putting up with our shit and thanks for doing what you guys do. Keep up the good work!
-Brian Hullaby
MANIA'S RESPONSE :
The next time that guy gets a girl in his bed
will be the 1st time. That is fucking embarrassing!
by goldmouth on Aug 6, 2011 2:42 AM 
 ============================================================================================
Entry #3 - The Internets is Serious Bidness!  
I personally like the firm moral imperative of this site. I select for it. Lurking around on Mania for 5 minutes makes me weep for humanity.
I agree with your opening premise that there isn't enough evidence to suggest that Dana White's comment was motivated by homophobia (there isn't any evidence to the contrary either) but to spin that observation into a generalized attack on Fagan — who is an excellent contributor to BE — and against BE itself is wrongheaded.
I like the fact that Bloody Elbow errs on the side of intolerant toward reprehensible social attitudes. If they occasionally misinterpret an innocent comment as a result of that vigilance, so be it.
There are plenty of blogs where they not only would never think of calling DW homophobic, they'd probably call you all sorts of gay slurs for even suggesting it. If that's the sort of freewheeling social discourse you're into, I would suggest spending some time here (link to Mania).
by Monte Fisto on Aug 8, 2011 11:39 AM  8 recs
Freedom of speech is a legal concept, not a social one
You will never find a more fire-breathing advocate of First Amendment rights than me. I worked for years for a civil liberties organization defending free speech — on the Internet no less.
So while I unfailingly support your inalienable legal right to call me all manner of terrible things without governmental reprisal, I also appreciate that there exists a privately-operated Internet forum where such things are aggressively discouraged.
by Monte Fisto on Aug 8, 2011 11:59 AM  1 recs
MANIA'S RESPONSE :
He is an internet free speech defender who prefers a site where there is no free speech? Could there be a bigger contradiction?
by freenow82 on Aug 8, 2011 12:38 PM 
===========================================================================================
BONUS DOUCHE BAG BEHAVIOR:
I think I might join mania and test it there
by halitosis on Aug 17, 2011 8:03 PM 
You can't return here once you've been there.
That's 90% of the reason I created a new account.
by Zachary Kater on Aug 18, 2011 8:17 AM   
If you're not already there, use it freely at MMAMania, and rec every comment you even slightly smile at or nod along with – those guys are fun to mess with…
by The American Ronin on Aug 17, 2011 11:36 PM  1 recs
Anyone want to go on a rec'ing spree over there? I'll need two other people, and we'll need to coordinate our attacks.
by halitosis on Aug 18, 2011 8:33 AM  
I got nothing better to do today
by chris81203 on Aug 18, 2011 8:58 AM 
Chris, Ronin, Me, and anyone else who cares to help out, we will first rec everything on their "UFC on Fox Press conference video and updates" thread. Please reply to this before you do anything so we know who we've got, and we can do it fast.
by halitosis on Aug 18, 2011 9:38 AM  
Of course, without commenting, will anyone even be able to tell who did it? I guess if we continue to refresh the page we'll see them…
ninja rec'ing crew…
by The American Ronin on Aug 18, 2011 9:43 AM   
But I don't care if I'm banned from mania, as long as it affects nothing here.
by halitosis on Aug 18, 2011 9:49 AM 
Being banned from there would be something of a Badge of Honor among non-mouth breathers, would it not?
by The American Ronin on Aug 18, 2011 9:52 AM 
Several of my rec's hit the 5 mark. You're welcome and it was beautiful.
by chris81203 on Aug 18, 2011 2:22 PM 
I do this. I rec, simply because they hate it so much. Seeing a comment go green there and the responses it gets is worth the second it takes to click.
by Empty Thoughts on Aug 18, 2011 8:19 AM
MANIA'S RESPONSE : 
I personally think BE posters like the color green so much because it reminds them of ...
Their daily social interaction with each other  -
Their safe sex philosophy (while blogging about social inequalities) -
One of their favorite hobbies (bicycle seats are discouraged) -
We here at Mania like the color green - but not in the moronic, lemming rec a comment type of way.
Let me show you how we do green the right way:
And in conclusion, I will allow another Mania regular to set the record straight :
Explain something to me smart guy
Is the point of going to BE and Mania to learn/discuss MMA? Then how can a website community, who is currently getting its ass kicked by a certain other community, make any claims towards intelligence?
Maybe you should reconsider the point of BE.
by Ulf Murphy on Aug 18, 2011 12:10 PM 
MMA Pick Em Contest - TEAM BE = 546,  TEAM MANIA = 578
HOW YA LIKE DEM APPLES?