As has been custom for new members to this site who really want to stand out and extend a hand of fellowship to already established board members, I too would like to take this opportunity to formally introduce myself to the MMA Mania message board and its esteemed and respected members, as well as Arm Bar Bandit (see what I did there).
In hindsight I guess I should have done this earlier to avoid confusion as to my real identity.  Honestly though, when some of you began to believe that I was someone else, like maybe I was a currently banned yet past prominent members of the board resurrected in a new identity,  I found it flattering and also a little troubling at the same time. Either way I decided to roll with it and just keep you guessing.
Usually in movies when a masked man is unmasked, it is a dramatic and suspenseful scene. Sadly, however, this is not one of those cases. I can see why some of you may have thought I was another member who had been banned. I know a lot about many of the online persona  that frequent this board and a great deal of the old drama and storylines that have developed with many of its current and old characters. The reason for my knowledge is I have followed this board for years, back to the time when it was called UFC Mania. I use to follow the articles but never commented. Honestly at that time most of the comments were dick jokes and people arguing, so I felt I had nothing to add. Although now that I think about it, I guess the board never changed. Maybe it was just me.
Anyway, a few months ago after Kev wrote a post about the different types of people that enjoy Mania, i.e. trolls, newbies, lurkers, etc... I found myself thinking that I should no longer just lurk but go ahead and join the community full force by contributing my thoughts to the board. So here I am.
As for my introduction. I am a 31 year old Mental Health Therapist who resides in Arkansas, USA. I have a short history of involvement in MMA and a long history in Martial Arts. I am going to use pictures to add to my introduction so certain people, like DetroitDrew, will see that I am not the people they have claimed me to be.
I started in Martial Arts when I was 14 and have had a main focus in Japanese forms of Jujitsu, although I have studied many other arts.


Here I am pictured with my instructor the day I received my black belt, when I was 25, in front of our Martial Arts school in my home town.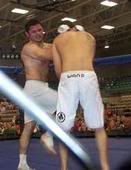 I later became involved in a few amateur cage fights with mixed success. I did win a few but also lose twice, but I can at least say that I fought and that my only two defeats were at the hands of champions for whom I was a last minute replacement to fight them. Neither were able to submit or KO me so I was proud of that. To this day I despise wrestlers.

From there I went on to help promote cage fights with the company i fought for. It had great perks (ring girls) but after losing my ass in a show that I put down a lot of money for, I decided that this was not the road for me.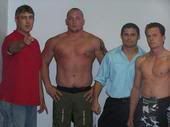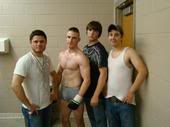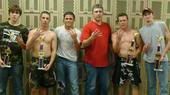 I found more success as a coach for an MMA team my instructor and I put together. These were by far my happiest moments related to MMA and I truly miss these days greatly. Being a coach to me was so much more rewarding than being a fighter or promoter.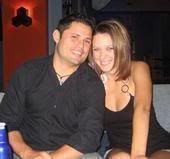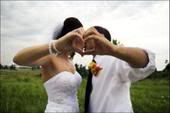 I later met the amazing woman pictured above and married her. Since she had children whom I also love very much, I knew that I had to change my life and provide for them. She is one of the few things, besides my faith, that could every drag me away from MMA. She would rather I continue to be involved in MMA but when you are the only moneymaker in the home with so many children, MMA just has to be put on hold.
SO that is ME. Sorry to disappoint you Drew. I am here to troll you guys, have some fun, and talk MMA. I have enjoyed posting on this site and glad to be part of the community.