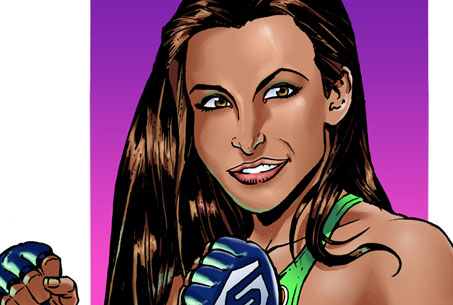 Photo via scottcohn.com

Welcome to the second installment of MMAmania.com's "Mixed Martial Art." This round is the lovely Miesha Tate! For those of you not familiar with her, she's 11-2 inside the cage, winning her last five fights to earn her spot as 135-pound number one contender under the Strikeforce banner.
The title is currently held by Marloes Coenen.

I chose Miesha as my first female fighter to draw because for starters, she's got a rockin' name. But more importantly, she represents toughness, fitness, and beauty equally. The "total package" as they say. I think most (if not all) of the female fighters bring a level of class and respect that elevates the sport and it can only help their respective divisions.
Keep it up, ladies!

It's a bummer the UFC still thinks there's no place for the women's division right now, which admittedly is still growing and has a long way to go, because they put on some very entertaining fights.
But I digress ... let's get to Miesha!
Step 1: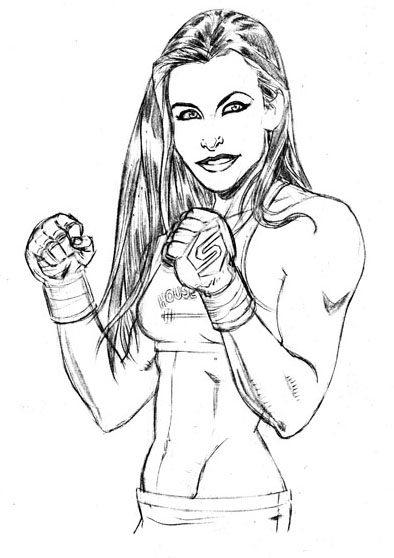 This initial drawing I was really happy with. But after sleeping on it and looking with fresh eyes in the morning, I didn't think it really looked like her. I emailed a friend the sketch and while he knew it was her, I didn't feel that was enough to warrant being complacent and not fixing the drawing since he wasn't adamant about it.

Step 2: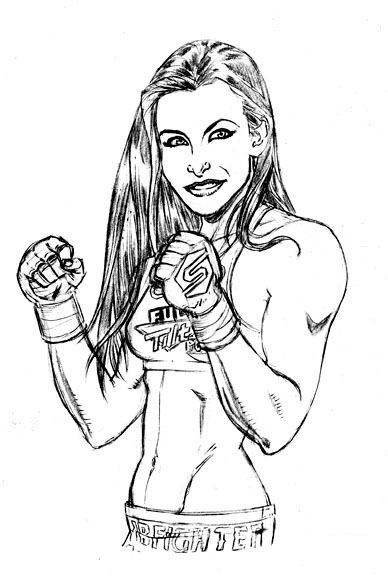 Much happier with this version. Really felt her nose wasn't being represented well the first time. Plus the initial drawing looked too "generic pretty girl."

Step 3: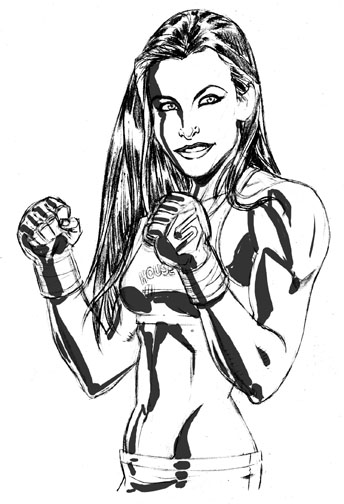 I initially wanted to lay a black highlight shadow over her, but really wanted to keep a softness to her as well. Not that it wouldn't have looked nice if done right, but I wasn't feeling it for this piece. Plus, I also wanted to start "painting" a bit more with Photoshop.

Step 4: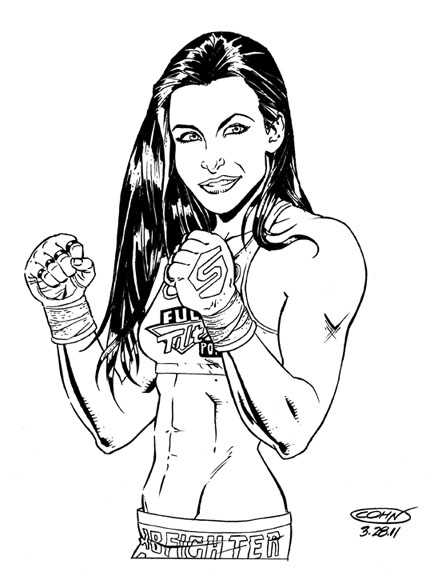 Now that I have it where I want it, I tighten it up, again just like in the Rampage piece, using an HB lead. No ink. I wanted a little bit of roughness over slickness that would come with an ink line. Now I can move onto color. But first, I've gotta know which ones, son! With Rampage, it was easy. He always has some camouflage in his shorts, and the shorts are usually black. Not much experimentation there. But since I was drawing her AND acclimating to twitter, why not ask Miesha herself what she likes and make her happy, and promote me at the same time?

Step 5: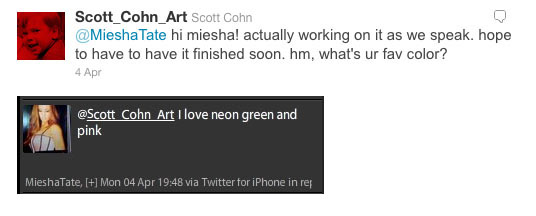 http://twitter.com/#!/MieshaTate
http://www.takedowntate.com
Follow her and say hi!

Step 6: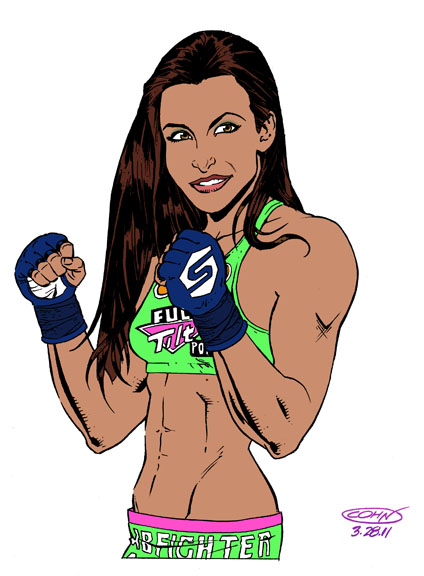 I tried all pink with neon green trim, but it wasn't happening (for those of you wondering).

Step 7: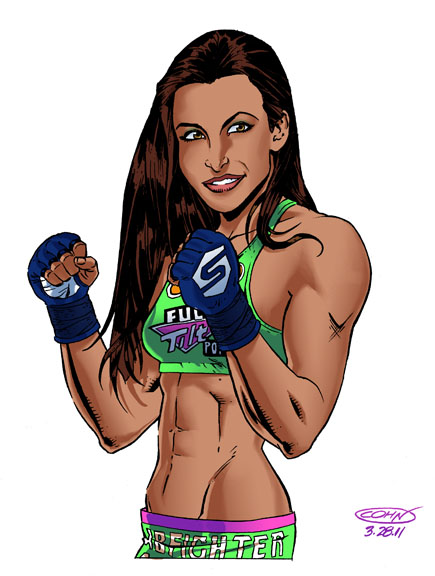 Laying in shadows now. I think this is usually my favorite part of any drawing next to actually getting in a good rhythm when I'm drawing a piece, because it starts to take the drawing from flat to some form, dimension, and depth.

Step 8: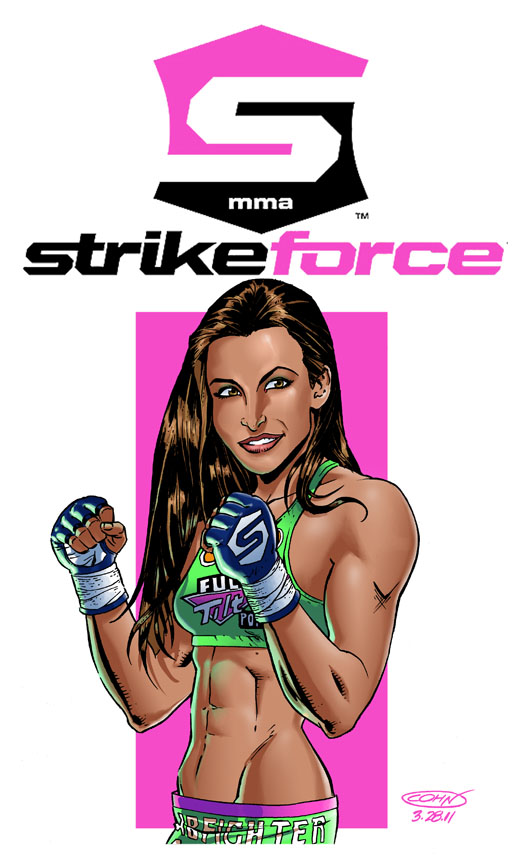 Lighting has been laid in, plus a highlight color. I tried a myriad of different colors, but felt that green was the way to go, or there would be too many colors competing. And I wanted to accentuate, not clutter. But now I'm not so sure a flat pink in the background is the way to go. I know she likes pink, but I need to find a way that works.

Step 9 (final outcome):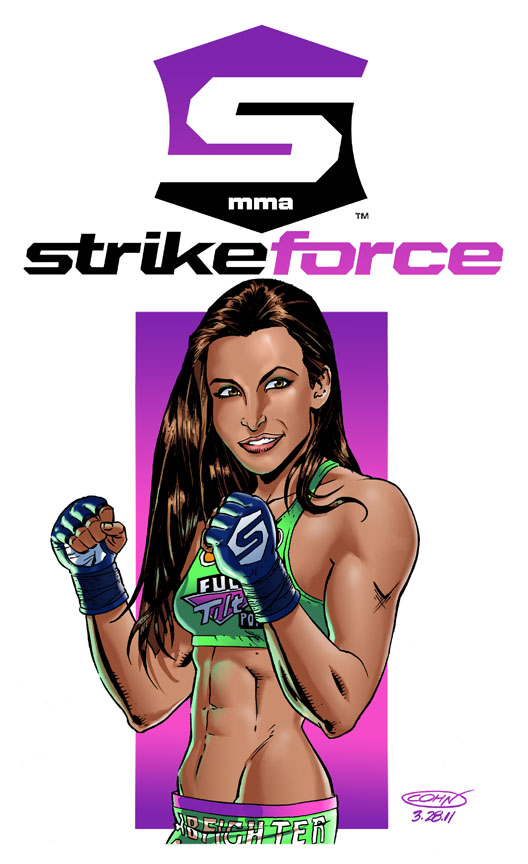 Now this, I can live with. And she loved it, so win/win!

If you liked this step-by-step, and missed out on the first one go here:

http://www.mmamania.com/2011/4/16/2115003/quinton-rampage-jackson-art-step-by-step

I'm open for commissions, so if you're feeling like you can't live without a fighter in your man-cave, drop me a line!
http://scottcohn.blogspot.com/
http://twitter.com/#!/scott_cohn_art
http://scottcohn.deviantart.com/
http://www.facebook.com/scott.cohn.art